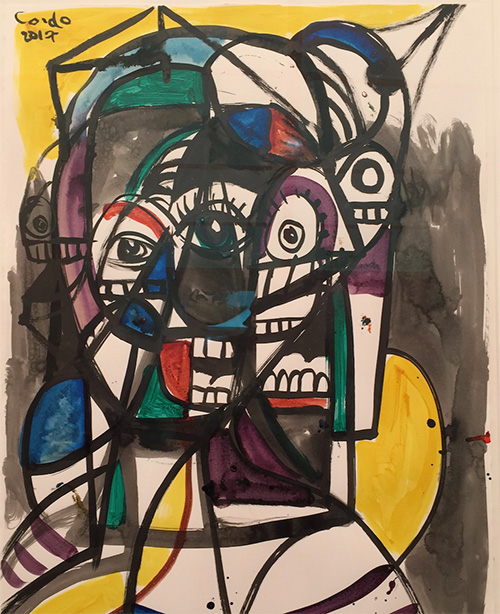 George Condo is an American artist known for combining Cubist-inspired faces with realistic forms to realistically represent the unreal, an approach that he has dubbed 'Artificial Realism'. He blends elements from the European Old Masters with popular culture in his paintings, drawings, sculptures, and prints. Inspired by notable artists like Pablo Picasso, Henri Matisse, and Diego Velázquez, Condo created a surrealistic style for himself that he has also termed 'psychological cubism'.
He studied Art History and Music Theory at the University of Massachusetts and moved to Boston where he worked as a silkscreen printer after graduation. Condo met Jean-Michel Basquiat in 1979 and was soon after inspired to pursue a career in the arts. He began to exhibit at galleries in New York in 1981 and, during this time, he worked in Andy Warhol's silkscreen production studio. As Condo progressed throughout the 1980s, he began exhibiting in more prestigious institutions in New York, Los Angeles, and throughout Europe, a high point being his participation in the 1987 Whitney Biennial.
In 1999, Condo received an Academy Award from the American Academy of Arts and Letters and has been an invited lecturer at prestigious institutions including Yale University, the Guggenheim, and Harvard University where he taught a six-month course titled Painting Memory in 2004.
Condo has received numerous commissions throughout his career including book covers, album artwork for rappers such as Kanye West, and t-shirt designs for Barney's New York. He continues to exhibit extensively in North America and Europe in institutions such as the Whitney Museum, the MoMA, the Metropolitan Museum of Art, and the Guggenheim Museum in New York, NY. He currently lives and works in New York.