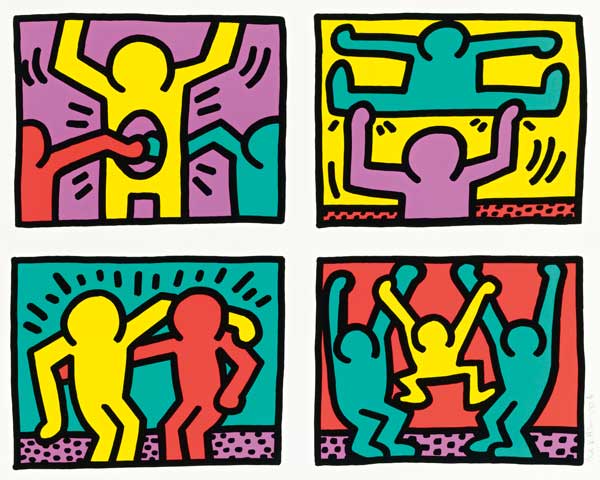 Keith Haring was an American artist born in Reading, Pennsylvania in 1958. In 1976, he began studying at a commercial art school in Pittsburgh. Upon realizing he had little interest in commercial art, he dropped out and moved to New York City to study at the School of Visual Arts. There, he participated in a thriving alternative art community that operated outside of the established galleries and museums alongside artists such as Kenny Scharf and Jean-Michel Basquiat.
Haring's career was devoted to creating public art with his ultimate goal being to create accessible art for everyone. He created hundreds of public drawings for the New York subway system, designed sets and backdrops for theaters and clubs, painted murals, and created advertising campaigns. Additionally, he opened his own retail store called Pop Shop, where he sold merchandise adorned with his imagery. His artistic expression of universal concepts such as love, sex, death, and war, along with his direct visual language, enabled a large and diverse audience to engage with his work and find meaning in it.
After Haring was diagnosed with AIDS in 1988, he used his art as a vehicle to spread awareness about the disease. He also established the Keith Haring Foundation, a non-for-profit organization with the mandate to provide help and support to children and organizations involved in research, education, and care related to AIDS. The Foundation also houses many of Haring's artworks and archives to facilitate research.
During his brief career, before passing away at the age of 31, Haring's work was exhibited in more than one hundred solo and group exhibitions. He collaborated with a diverse array of well-established artists and performers including Madonna, William S. Burroughs, Andy Warhol, Yoko Ono, Timothy Leary, Jenny Holzer, and Grace Jones. His work resides in many established collections including the MoMa and the Whitney Museum in New York, NY, and the Art Institute of Chicago in Illinois, among others.