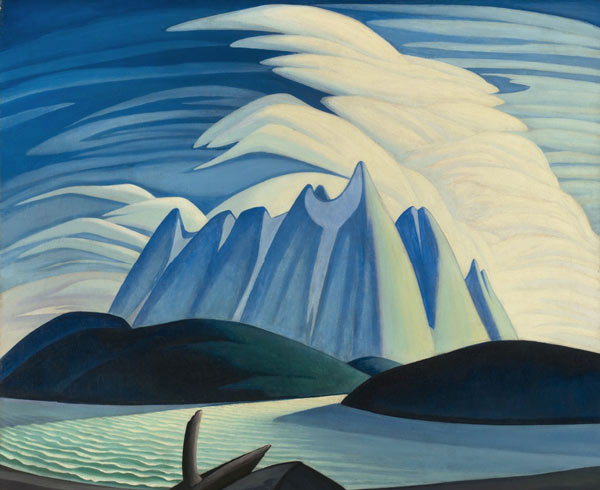 Lawren Harris was a Canadian landscape painter recognized for his participation in the Group of Seven, the famous group of Canadian landscape painters of the 1920s and 1930s. His work redefined the history of Canadian art and contributed to its own distinct style with his innovative representations of the northern landscape.
He was born in Brantford, Ontario in 1885 to a family with wealth and status, which facilitated his pursuit of painting. He studied at the Central Technical School at St. Andrew's College and, from the age of nineteen, studied in Berlin. After the formation of the Group of Seven, Harris financed the construction of the group's studio building in Toronto, which also provided other artists space in which to work. Additionally, he financed trips for the Group of Seven to paint in the Algoma region, a district in North-western Ontario.
In the late 1910s, Harris painted colourful, descriptive motifs of urban life and the Algoma region. During the 1920s, his work evolved and became abstracted and simplified, particularly in his stark landscapes of the Canadian north. Over the decade, he took numerous sketching trips around Canada, looking for inspiration in places such as Jasper National Park, Banff National Park, Yoho National Park, and Mount Robson Provincial Park. In 1930, he traveled to the Arctic on a two-month trip with a supply ship, during which time he completed more than fifty sketches. In 1934, Harris lived in and painted in Hanover, New Hampshire, and in 1938, he moved to Santa Fe, New Mexico where he organized the Transcendental Painting Group – an organization of like-minded artists who worked with a spiritual form of abstraction. After Harris achieved fame locally and internationally, he ceased signing and dating his work in the hopes that his audience would judge his pieces solely on their artistic splendour and not on their notoriety for being associated with his name. 
In 1969, Harris was made a Companion of the Order of Canada. Today, his work hangs in many prestigious public collections throughout the country including, the Art Gallery of Ontario in Toronto, the National Gallery of Canada in Ottawa, and the Musée des Beaux Arts in Montreal. In 2016, Steve Martin, the famed American actor and comedian, curated a travelling exhibition of Harris' work entitled, The Idea of North, which voyaged to various institutions throughout Canada and the United States.