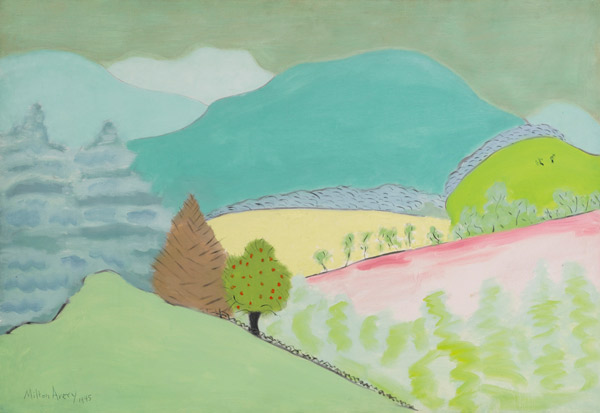 Though remaining relatively unknown during the majority of his lifetime, today American painter Milton Avery is considered a master colourist. His oeuvre is often compared to the vibrant and expressive work of Fauvist Henri Matisse in his expressive gestures and vibrant colours. Combining aspects of figuration and abstraction, Avery is considered to have prefigured elements of Color Field Painting. Born in 1885 in Altmar, New York, Avery studied at the Connecticut League of Art Students in Hartford where he received a conservative art education. Due to his family's precarious financial situation, Avery contributed to the family's income by taking on night jobs, leaving him limited time during the day to paint.
After moving to New York in 1925, Avery was able to fully dedicate time to his art practice. Though he exhibited his work throughout the 1930s, his career only gained momentum in 1943 when he joined the Paul Rosenberg Gallery. Associated with the European avant-garde movement, the gallery also represented notable artists such as Max Weber and Marsden Hartley. One year later, The Phillips Collection in Washington, D.C. granted him his first solo exhibition. 
Avery only emerged as a major figure in the American art scene during the 1960s. His relatively delayed recognition was most likely due to the unbreakable commitment he held to his vision. During the early days of his career, critics were perplexed by his lack of concern for labels and movements; he believed his obligation was to be true to his art.
His work is currently held in the collections of numerous institutions across the United States and the United Kingdom including the Hirshhorn Museum in Washington, D.C., the Metropolitan Museum of Art and the MoMA in New York, NY, the Tate Modern in London, England, and the Philadelphia Museum of Art in Philadelphia, PA, among others. His innovative use of colour paved the way for later colourists such as Mark Rothko, Adolph Gottlieb, and Barnett Newman – to name a few. Many such artists have acknowledged their debt to Avery and his body of work, a recognition that was first made public with a retrospective exhibition on the artist at the Whitney Museum of American Art, curated by Barbara Haskell in 1982.