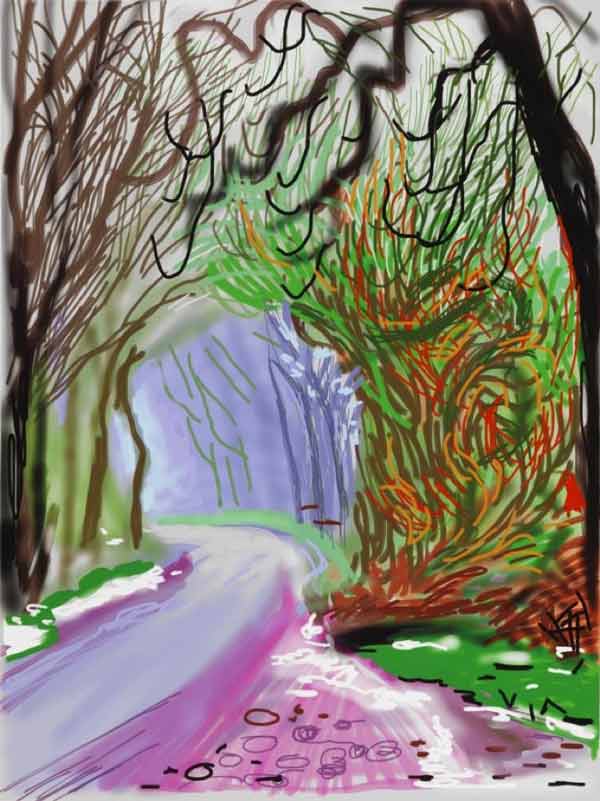 David Hockney is regarded as one of the most influential British artists of the twentieth-century due to his contribution to the Pop Art movements in the 1960s. He was born in Bradford, England in 1937 and attended the Bradford College of Art from 1953 to 1957. In 1959, he went on to study at the Royal College of Art, London.
As he started gaining popularity from his work in London in the 1960s, Hockney began making frequent trips to the United States. In December of 1963, Hockney traveled to New York to meet Andy Warhol, Dennis Hopper, as well as the curator of twentieth-century art at the Metropolitan Museum of Art. When traveling to Los Angeles for the first time in 1964, Hockney was inspired by the landscapes, which prompted him to switch from oil to acrylic paints in order to achieve smoother, flatter, and more vibrant colours. During this time, he experimented with Polaroids, worked on a series of Southern Californian landscapes, and created the first of his famed swimming pool paintings. Hockney also taught in several American institutions throughout the decade including the University of Iowa, the University of Colorado, Boulder, and the University of California, Berkeley.
Hockney's popularity stemmed from his innovative focus on personal subject matter, depicting the domestic realm. He devised new ways of portraying water, particularly in his painterly articulations of reflections in his swimming pool paintings as seen in A Bigger Splash (1967) and A Lawn Being Sprinkled (1967). He also painted many portraits throughout his career and, as an openly gay artist, is an advocate for gay rights and explores the nature of homosexual relationships in his artwork. 
In addition to painting, Hockney also worked as a draughtsman, a printmaker, a photographer, and a stage designer. In the 1980s, he began experimenting with photo collages with a technique he called 'joiners'. Using Polaroids and 35mm pictures, he would shoot a single subject from different perspectives and arrange the photos like patchwork to create the final image. Since 2009, Hockney has embraced technology and painted hundreds of landscapes, portraits, and still-lifes using iPhone and iPad applications.
Today, Hockney's work is frequently exhibited at prestigious institutions internationally. He has been awarded numerous honours and awards, the most distinguished of which was his appointment to the Order of Merit by Queen Elizabeth II in 2012 for his contributions to the arts. Most recently in 2018, he had a major retrospective at the Metropolitan Museum of Art, New York, NY. He currently lives and works in London and California.