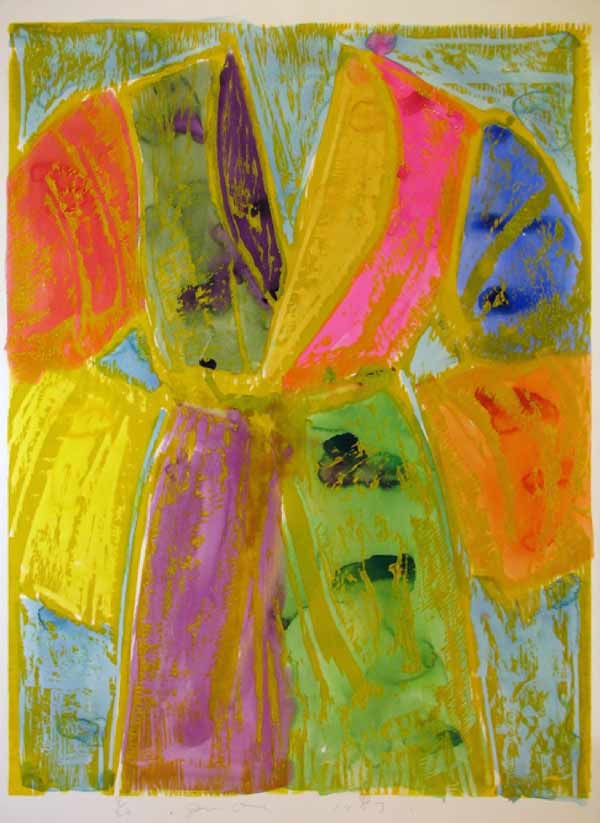 Jim Dine is an American painter, printmaker, sculptor, poet, and conceptual performance artist. His artwork employs the use of nostalgic motifs, including Pinocchio, heart shapes, bathrobes, and tools that are both autobiographical and that focus on themes of personal identity and memory.
Dine was born in Cincinnati, Ohio in 1935. He studied at the University of Cincinnati and the Art Academy of Cincinnati. In 1957, he received a Bachelor of Fine Arts from Ohio University. He moved to New York the following year and became known for his critical role in a group of artists who initiated 'Happenings', which is a genre of performance art that challenges the elitism of Abstract Expressionism.
Dine believes in the power of simple images because their familiarity is accessible and relatable to any viewer. Although he uses straightforward and popular imagery, Dine resists his connection to Pop Art. Instead, he insists that his work is an extension of the work put forth by artists who question the power of iconic symbols rather than exploit them, such as Robert Rauschenberg and Jasper Johns.
In addition to his numerous international exhibitions, his work is included in the public collections of the Centre Pompidou in Paris, France, the British Museum in London, England, the Metropolitan Museum of Art, the Guggenheim Museum, the Whitney Museum, and the MoMA in New York, NY, the San Francisco Museum of Modern Art in California, the Smithsonian American Art Museum and the Hirshhorn Museum and Sculpture Garden in Washington, D.C., the Tate Modern in London, England, the Walker Art Centre in Minneapolis, Minnesota, and the Honolulu Museum of Art in Hawai'i. Today Dine lives in New York, Paris, and Walla Walla, Washington.