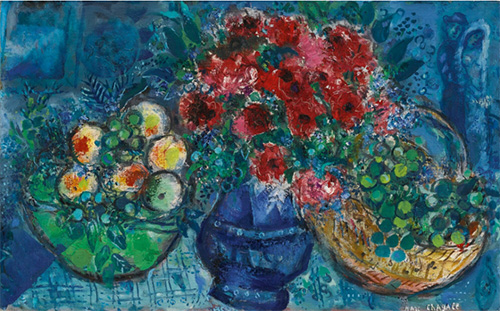 (Russian/French, 1887-1985)
Marc Chagall was born near Vitebsk, Russia (today Belarus). He was raised in a Jewish community and attended religious schools throughout his youth. In 1906, Chagall left Vitebsk to study at the Zvantseva School of Drawing and Painting in St. Petersburg. During his studies he was apprenticed under Leon Bakst, an artist and set designer who encouraged Chagall to express his Jewish heritage through his art practice.
He moved to France in 1910 and became a prominent painter at the École de Paris. His work combined Fauvism, Cubism, and Surrealism to create dream-like motifs in a poetic and figurative style. As his practice evolved, Chagall continued to express his Jewish identity, bringing together cultural traditions coupled with aspects of modernism.
When Chagall returned to Russia for a short visit, he was forced to stay in the country due to the Bolshevik Revolution of 1917 and, while there, took up the political post of Commissar of Arts. During this time, he managed to create new paintings and exhibit in Moscow and St. Petersburg. In 1923, he was able to move back to Paris with his wife. He began working on commissions, traveling and exhibiting his work until the outbreak of World War II. With the threat of Hitler's Third Reich and his publicly known Jewish identity, Chagall and his family sought refuge in New York City. In 1947, he moved back to Europe and settled in Vance, France.
Throughout the decades that followed, Chagall was commissioned to create numerous large-scale public artworks such as a stained-glass window for the Hadassah University Medical Center in Jerusalem, the memorial Peace window for the United Nations, The American Windows for The Art Institute of Chicago, the ceiling of the Paris Opera House, and murals for the Metropolitan Opera in New York.
Throughout his lifetime, Chagall mastered a number of mediums including oil and gouache, and watercolour painting, etching, lithography, drawing, ceramics, set and costume design, as well as stained glass. His work is housed in the Palais Garnier in Paris, France, the Tate Modern in London, England, and the Metropolitan Opera in New York, NY, among other prestigious international collections.