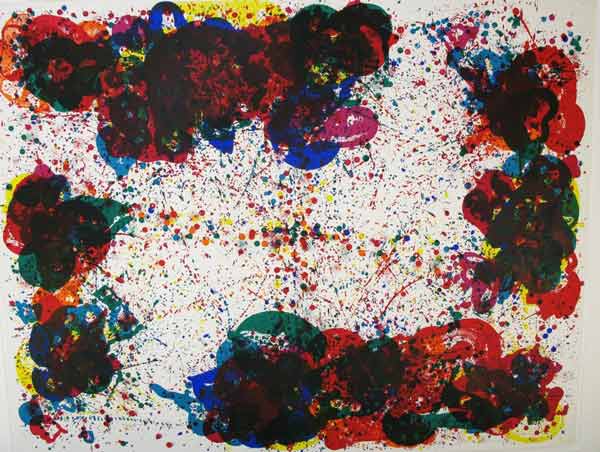 Sam Francis was an American painter and printmaker recognized as one of the most influential postwar American artists. He was born in 1923 in San Mateo, California and attended the University of California, Berkeley as a pre-med student. His studies were halted when he joined the Army Air Corps during World War II. Due to an illness caused by spinal tuberculosis, he left his military service and was hospitalized for extended periods of time over the next several years. It was confined to his hospital bed where he found his passion for painting.
After his recovery, he experimented with abstract and figurative works in the San Francisco area, inspired in part by the artistic trends dominating the 1940s – Abstract Expressionism and Surrealism. He returned to Berkeley and graduated with a Bachelor of Arts in 1949 and with a Master of Arts in 1950. After finishing his education, he moved to Paris where he worked throughout the 1950s while frequently travelling to the South of France, Mexico City, Tokyo, Bern, and New York. While in Paris, his style became associated with Tachisme, a French form of abstract painting with an intuitive form of expression. A Time Magazine feature in 1956 described Francis as one of the most popular American painters in Paris at the time.
Francis' art has been exhibited throughout the United States, Europe, and Asia. His work can be found in international museum collections at The Metropolitan Museum of Art and the MoMA in New York, NY, the Kunstmuseum Basel in Switzerland, the Centre Pompidou and the Musée National d'Art Moderne in Paris, France, and the Idemitsu Museum of Arts in Tokyo, Japan. During his career, he had more than one hundred solo exhibitions and, since his death, over ninety more. Today, the Sam Francis Foundation in California continues to organize exhibitions as well as donate artworks, manage archives, and provide education to the public about his art to preserve Francis' legacy.