James Turrell, Akhob, 2013, Las Vegas, Nevada, USA
These two artists creatively use light as an artistic medium
May 16th marks the International Day of Light, a global initiative that engenders an appreciation of light and the varied roles it plays in culture. Light certainly is essential in the arts as it governs core visual properties including spatial perspective, shadows, reflections and colours. While light is a central tenet throughout all of art history, we are highlighting two artists, James Turrell and Ellsworth Kelly, who have ingeniously employed light as a medium in and of itself.
James Turrell's expansive body of work celebrates the materiality of light and the optical effects of luminosity. Many of his works are large, immersive architectural installations that are infused with a combination of artificial and natural light. Turrell's structures envelop viewers in colour-filled spaces that ethereally glow with often gradually changing hues. Viewers experience a visual adventure that is intended to inspire deep contemplation and spiritual meditation.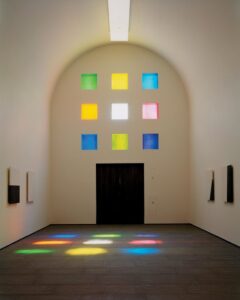 Ellsworth Kelly, Austin, 2018, Austin, Texas, USA
In the vein of spirituality, Ellsworth Kelly's Austin is a chapel-like structure that is considered the artist's magnum opus, a culmination of his seven-decade long fascination with pure color and form. Meticulously planned during the last three years of his life, the structure was only realized posthumously. The 2,715 square-foot cavernous structure boasts boldly coloured stained glass windows of various shapes arranged in unique designs. Sunlight pours through the glass panes, resulting in flashes of colours that spectacularly shimmer and slowly move around the room.
Related Posts
New Collection: Photography & More
Painting Versus Prints
Conceptual Art: What is it?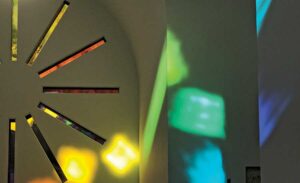 Both Turrell's luminous structures and Kelly's free-standing chapel offer viewers site specific experiences of the power of light, however, both artists have prolific print work that brilliantly convey the artistic principles of light, architecture, geometry and colour on two dimensional surfaces.
If you are interested in acquiring artwork by either Turrell or Kelly please contact us for availability and prices.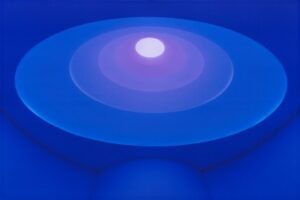 James Turrell, Aten Reign, 2015, Pigment print, 44 x 65 inches, Edition of 30

Ellsworth Kelly, Color Over Black, 2012, Lithograph, 28 x 77 inches, Edition of 35