Frank Gehry's Guggenheim Museum Bilbao, Bilbao, Spain.
Celebrating International Museum Day
When visiting an art museum, we expect to encounter art within its walls. Focusing our attention solely on a museum's collection, however, one fails to acknowledge the fact that museum edifices themselves are often artistic masterpieces in their own right. Museums are dynamic structures that are built with innovative materials and boast striking designs and powerful shapes. To celebrate International Museum Day, we are highlighting only a handful of the many museums whose architectural components are as noteworthy as the artworks housed within.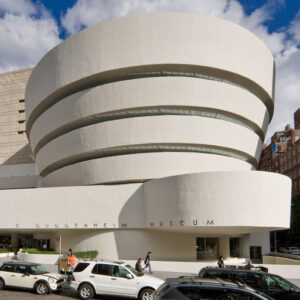 Frank Lloyd Wright's Solomon R. Guggenheim Museum, New York City, United States of America.
New York City's iconic Solomon R. Guggenheim Museum comes to mind when contemplating noteworthy museum architecture. Designed by Frank Lloyd Wright, the unique winding structure is nestled within its largely linear cityscape. It has clean, fluid lines, curving, spiraling walls, and a smooth exterior texture free of visible windows. In both its form and concept, the Guggenheim offers unique viewing experiences and its sculptural brilliance renders it a noteworthy art piece in and of itself.
The Guggenheim Museum Bilbao is one of the most admired buildings in contemporary architecture. Characterized by its structural ingenuity and appeal, the museum was designed by Canadian-American architect Frank Gehry. The museum is situated in Bilbao's port area on the Nervion River. Gehry's extensive use of titanium and glass and his use of dramatic and exaggerated curves and shapes offer a modern cutting-edge style that resembles a boat. The surface of the building mimics rippling water, as light catches and refracts along with the curved titanium. Gehry illustrates the creative potential of harmonizing both natural and industrial surroundings in order to create a structure that is both complex and dynamic.
Related Posts
Check-in and Check-out the Art!
Alexander Calder: Radical Inventor
Conceptual Art: What is it?
Zaha Hadid was a British-Iraqi architect who is internationally renowned for her boundary-pushing designs, particularly for museums and art galleries. Her futuristic aesthetic is evidenced by her predilection for glass and metallic materials as well as her bold and dynamic shapes. Her construction of the Heydar Aliyev Cultural Centre, in Baku, Azerbaijan is celebrated for its ground-breaking employment of sweeping fluid curves, and rounded lines built to reflect the building's natural surroundings.

Zaha Hadid's Heydar Alivey Cultural Center, Baku, Azerbaijan.
The next time you visit an art museum, be sure not only to admire the artwork inside but also the exterior and structural components of the building as well!
While we are currently unable to visit museums in person, many are offering virtual tours online. Please feel free to explore museum collections in the comfort of your own home with the provided links throughout the article.