Installation view of Hilma af Klint's "The Ten Largest" Solomon R. Guggenheim Museum
The unique beauty of flowers unconventionally rendered
The arrival of springtime ushers in warmer weather, promising a rebirth after the long winter months. Although this year looks a little different and we are forced to remain in hibernation mode, the birds will not cease to chirp nor the flowers to bloom. To celebrate this time of year, we highlight two prominent early 20th century female artists who embrace flowers as subjects in their work, Georgia O'Keefe and Hilma af Klint.
Both women were part of a radical subset of artists who rejected the formal teachings of painting and experimented with a new kind of abstraction by creating art that did not reflect subjects as they appeared in the real world.
Hilma af Klint's botanicals are totally untethered to the physical world as they appear to spiritually dance and float across the picture plane, as opposed to traditional realistic renderings of florals typically portrayed in vases or in a garden setting. Af Klint's flowers can be described as ethereal, futuristic and symbolic.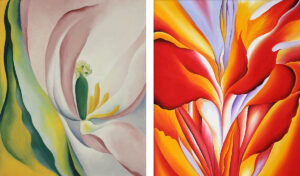 (Left) Georgia O'Keeffe, Pink Tulip, 1926 (Right) Georgia O'Keeffe, Red Canna, 1924, Georgia O'Keeffe Museum
Related Posts
Art Market Review: From Spring Auctions to Basel
Celebrating Two Iconic Female Artists: Cindy Sherman and Barbara Kruger
Spring Cleaning: Art Edition
O'Keeffe's compositions also deviate from realism, as her overly magnified depictions of flowers render them virtually unrecognizable as such, or as any physical object for that matter. Ironically, her paintings are so detail-oriented that her illustrations served as resources to botanical scientists.
In their own unique styles, expressions, and interpretations of the same subject matter, both artists significantly contributed to a new era of abstraction that reframes and distorts the beauty of organic life.
While we patiently await springtime's full bloom, we hope that you enjoy these floral oeuvres. The Robin Rosenberg Fine Art team hopes that you are healthy and that you take the time to celebrate spring!

Hilma af Klint, detail of Group IV, no 2. The Ten Largest, Youth.