Artistic duo Eva and Adele at Gagosian's booth at Art Basel (Featuring Koons, Ruscha and Lichtenstein)
The number of sales in the art market proves that it means big business
The art market has managed to shield itself from the apprehensive outlooks on global trade and economic welfare, proving to be stronger than ever. This past Spring auction season yielded more than $2 billion in New York city alone. The artworld does have a history of performing strongly despite economic woes. A noteworthy example is Sotheby's New York who hosted a successful sale on the very day the Lehman Brothers collapsed in 2008.
The recent auctions boasted an unprecedented amount of record shattering numbers for approximately 50 artists ranging from European Old Masters to Contemporary American artists. Claude Monet's Haystacks sold for $110.7 million, a record for an Impressionist work and Jeff Koons reclaimed his record for the most expensive artwork by a living artist when his silver bunny sculpture sold for $91.1 million. Milestones were established for many other artists, including several for female and black artists.
Related Posts
Miami Basel: Through the Eyes of a Dealer
Armory Show 2018 Highlights
Canadian Art and the International Art Market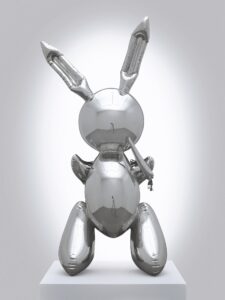 Jeff Koons, Rabbit, 1986, Stainless steel, 41 x 19 x 12 inches
Last month's auctions established a favourable precursor to Art Basel's 49th edition that I had the pleasure of attending this past week. Of the hundreds of global art fairs, Basel Switzerland is the most significant of them all, where gallerists offer their most important artworks to their biggest spending clients. There was an overwhelming amount of artwork to behold with seemingly endless rows of booths displaying serious and mostly original artworks, devoid of anything trendy or overly commercial.
Strong sales were prevalent from the outset. David Zwriner notably sold a Gerard Richter painting for $20 million, Levy-Gorvy sold a Christopher Wool for about $6 million as well as a Mark Grotjahn for about $5 million. Although no red dots were visible, more often than not, when I inquired about a piece I was informed it had already been sold.
The staggering Spring auction results and Basel's fast and furious sales prove that the art market means big business, which is not only attractive to collectors, but to the more mainstream investment community in general.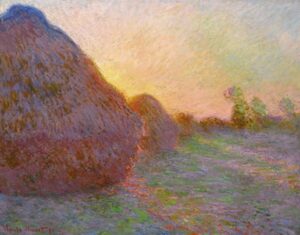 Claude Monet, Meules, 1891, Oil on canvas, 28 5/8 x 36 3/4 inches