Many artists are bold enough to integrate elements of existing works of art into their own pieces, an act that has sparked controversy in the world of art.
Appropriation has a long and varied history in the arts and is a broad term that denotes the intentional copying and borrowing of pre-existing imagery and objects. A particularly interesting strand of appropriation involves artists blatantly incorporating aspects of existing works of art into their own pieces, oftentimes with little to no alteration of the original image.
One example is Brazilian photographer, Vik Muniz, whose entire art practice involves recreating famous imagery from pop culture and art history using unusual media including thread, diamonds, chocolate syrup and even garbage. One of his photographs from 2009 replicates Picasso's Les Demoiselles d'Avignon from 1907 using thousands of puzzle pieces. Tom Wesselmann, a pop artist of the late 20th century, approached appropriation in a slightly different manner by often incorporating existing artwork within his own unique compositions. InMonica Sitting with Mondrian, the artist's rendering of a Piet Mondrian serves as a backdrop for his nude subject.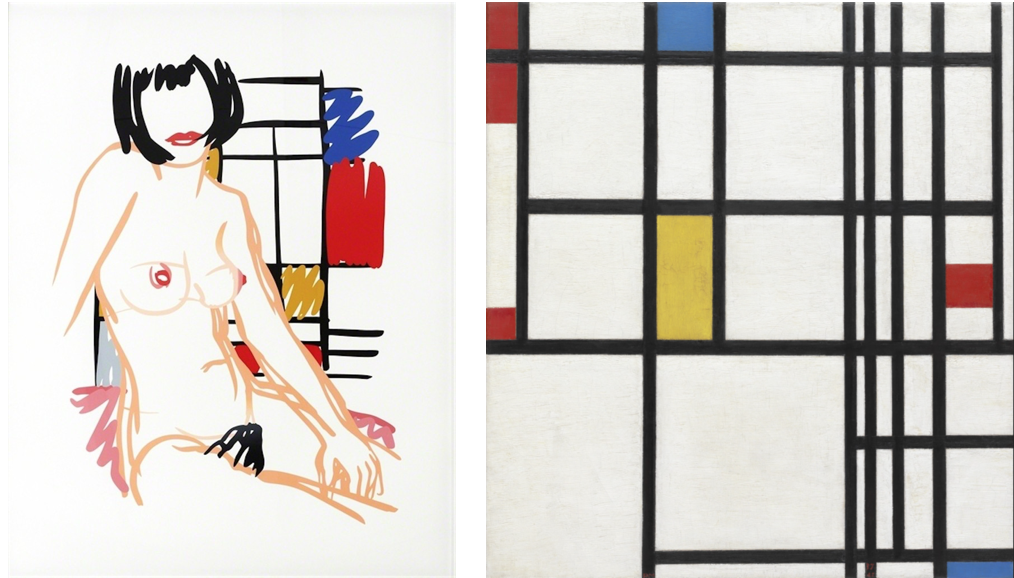 Left: Tom Wesselmann, Monica Sitting with Mondrian, 1989, Screenprint, Edition of 100, 42 x 28 inches
Right: Piet Mondrian, Composition in Red, Blue, and Yellow, 1937-42, Oil on canvas, 24 x 22 inches
Related Posts
Conceptual Art: What is it?
New Collection: Photography & More
Ada with Coffee Silhouette Sculpture, Alex Katz
Appropriation in the arts has sparked controversy as it challenges traditional notions of authenticity, authorship and originality. It is important to consider, however, that appropriation is not forgery in that it does not aim to trick viewers into believing they are looking at the original image itself. Rather, appropriation rests on the ability of the viewer to recognize the original source of the image being referenced and re-contextualized. It is argued that artwork involving any degree of appropriation is valid in terms of its unique form of representation as well as its aim to inspire new meaning from a familiar image. Moreover, the incorporation of mainstream imagery from the collective consciousness is believed to render art more accessible to the masses.
Although a subject of debate, appropriation can ultimately be viewed as an innovative and playful way to create dialogues between artists of different periods.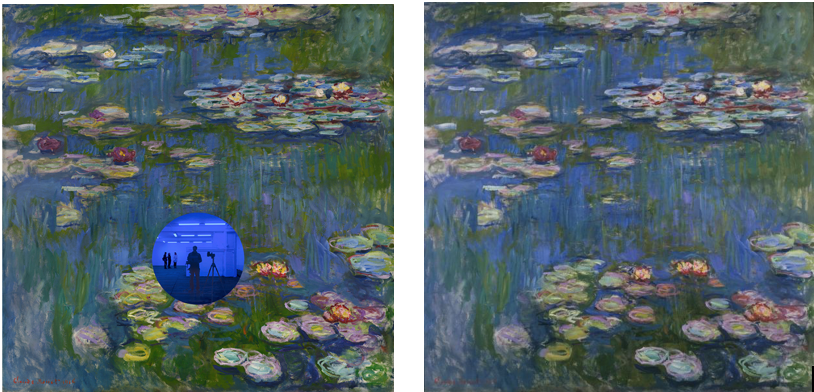 Left: Jeff Koons, Gazing Ball (Monet Water Lillies), 2018, Archival pigment print and glass, Edition of 20, 38.5 x 37 inches
Right: Claude Monet, Water Lillies, 1916, Oil on canvas, 79 x 79 inches