Does the pervasive image of the impoverished and struggling artist endure in today's hot contemporary art market?
Anyone who has studied or discussed Art History is familiar with the starving artist trope – the idea of the artist who is rejected by his or her contemporaries, only to rise to fame posthumously. Vincent Van Gogh is a prime example, as he is one of the world's most revered artists, yet only sold one painting during his lifetime.
The dismal image of the struggling and tortured artist quickly dissolves when surveying auction records for living artists. In fact, there is buzz that a new record will be established this week on November 15th during Christie's evening sale in New York. David Hockney's monumental canvas, "Portrait of an Artist (Pool with Two Figures)" (1972) is poised to become the most valuable work by a living artist ever sold at auction, with an estimated hammer price of $80 million. The current record is held by Jeff Koons, whose ten foot high stainless steel Orange Balloon Dog sold for $58.4 million in 2013. Gerard Richter, Ed Ruscha, Jasper Johns, Christopher Wool and Damien Hirst are only a handful of the many other artists who have achieved great success and managed to live to see it.
Related Posts
Alexander Calder: Radical Inventor
ARTspiration: Appropriation in Art
Canadian Art and the International Art Market
Whether or not Hockney smashes Koons' already impressive record, it is still exciting to witness the astronomical numbers living contemporary artists can fetch at auction. Click here to view the other lots in Christie's upcoming Post-War and Contemporary Evening Sale.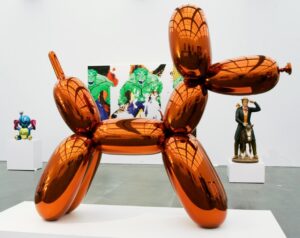 Jeff Koons, Balloon Dog (Orange), 1994-2000, Mirror-polished stainless steel with transparent color coating, 121 x 143 x 45 inches. Auction price realized: USD $58,405,000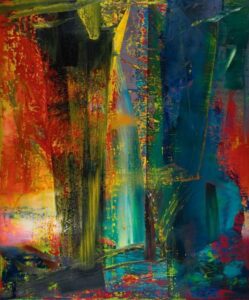 Gerard Richter, Abstraktes Bild, 1986, Oil on canvas, 118 x 98 inches. Auction price realized: GBP £30,389,000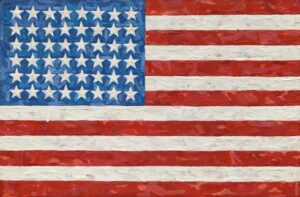 Jasper Johns, FLAG, 1983, Encaustic on silk flag canvas, 11.5 x 17.5 inches, Auction price realized: USD $36,005,000