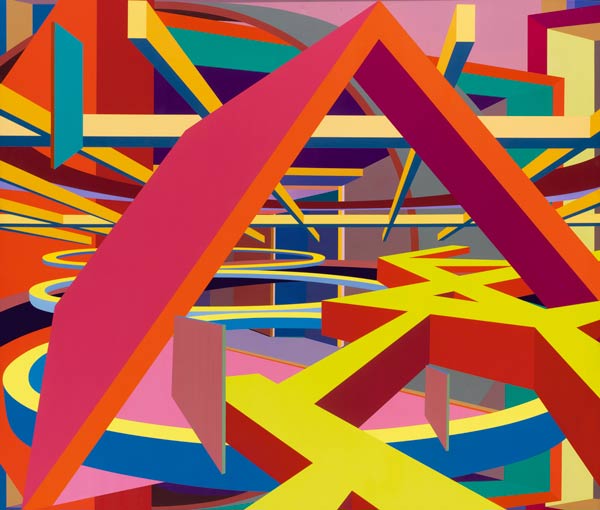 Al Held was an American Abstract expressionist painter. Born in 1928 in Brooklyn, New York, Held joined the U.S. Navy in 1945. He showed little interest in art until after his service when he became inspired to enrol in the Arts Student League of New York with the help of a stipend from the G.I. Bill. From 1949 to 1952, Held lived in Paris to attend the Académie de la Grande Chaumière. During his studies, he discovered his distaste for realism and moved his artistic practice into the realm of abstraction. He drew inspiration from other Abstract Expressionist artists like Jackson Pollock, Mark Rothko, and Willem De Kooning.
Held moved back to New York and soon became a prominent figure in the second-generation Abstract Expressionists who were quickly gaining popularity at that time. In 1959, he received his first New York solo exhibition at the Poindexter Gallery, firmly establishing his artistic career in both America and Europe. Held was appointed to the Yale University Faculty of Art as an associate professor where he taught from 1962-1980. In 1966, he was awarded both the Guggenheim Fellowship and the Logan Medal of the Arts. In 1988, he was elected as an Associate member of the National Academy of Design and in 1994 he shifted his career to focus full-time on academia.
Although best known for his large-scale hard-edge paintings and as a renowned Abstract Expressionist, Held's painting practice evolved through a multitude of styles over the years including Pop Art, Geometric Abstraction, and Post-Painterly Abstraction. He openly rejected art critic Clement Greenberg's modernist doctrine that insisted on the flatness of the canvas.
His work was exhibited in a significant number of group and solo exhibitions among North America's most prestigious art institutions and is currently part of numerous public collections such as the MoMA, the Metropolitan Museum of Art, the Solomon R. Guggenheim Museum, the Whitney Museum of American Art in New York, NY, among many others. Today, the Al Held Foundation manages his legacy by offering education to both students and teachers about Held's works and influence.