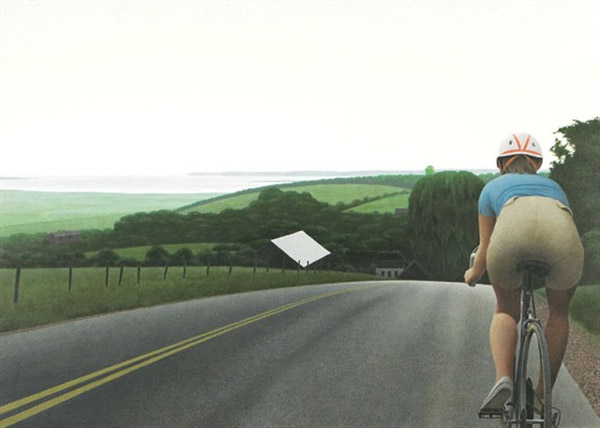 Alexander Colville was a Canadian painter whose works captured a number of subjects in New Brunswick including the ocean, boats, people, and the natural expanse of the province. His ordinary subjects were rendered in a static, slightly eerie style, echoing elements of Surrealism.
Colville was born in Toronto, Ontario in 1920. In 1942, he graduated with a Bachelor of Fine Arts from Mount Allison University in Sackville, New Brunswick and, shortly after, enlisted in the Canadian Army infantry during World War II. After two years in the military, Colville was employed as a war artist. With his drawings he captured the horrors of the war in the Netherlands, Germany, and the Bergen-Belsen concentration camp. After the war, he returned to New Brunswick and taught in the Fine Arts Department at his alma mater, Mount Allison University. In 1963, he left teaching to devote his time to painting and printmaking full-time in his studio.
During his career, Colville exhibited extensively across Canada and abroad. In 1966, along with artists Yves Gaucher and Sorel Etrog, his work represented Canada at the Venice Biennale. His works can be found in the collections of the Art Gallery of Nova Scotia in Halifax, the New Brunswick Museum in Saint John, the National Gallery of Canada in Ottawa, the MoMA in New York, and the Musée National d'Art Moderne in Paris.