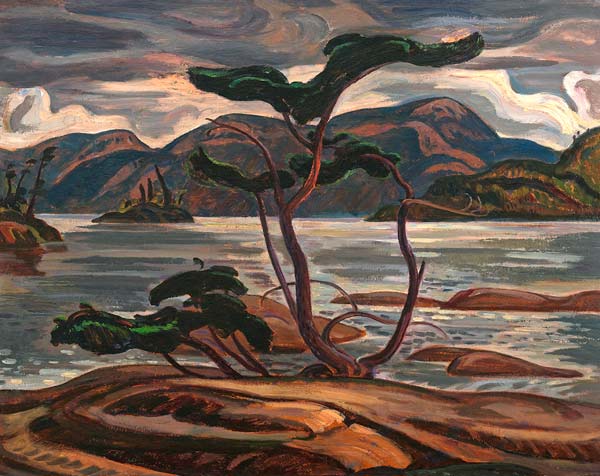 Alexander Young Jackson was a Canadian landscape painter and printmaker. He was a founding member of the Group of Seven, the famed group of Canadian landscape painters who believed art could be developed through direct exposure to nature. Jackson, along with the other members of the group, made significant contributions to the historical development of twentieth century Canadian art. 
Jackson was born in 1882 in Montreal, Quebec. He received his first training in the arts while working at lithography firms in both Montreal and Chicago during his youth. From 1896-1899, he studied art at night school at the Conseil des arts et manufactures and at the Art Institute of Chicago from 1906-1907. He also studied Impressionism at the Académie Julian in Paris in 1907.
Upon his return to Canada, Jackson began painting Neo-Impressionist landscapes. His reputation in the art world was steadily growing, however, his career was interrupted by his enlistment in World War I. During the war, he was wounded and transferred to the Canadian War Records branch to work as an official war artist.
After his return from the war, Jackson became dissatisfied with the art scene in Montreal, prompting his move to Toronto where he shared a studio with Canadian painter Tom Thomson. The two, along with other members of the Group of Seven, took many trips to Canada's wilderness to paint. During this time, Jackson created his famous winter scenes, specifically his paintings of the Arctic. His works were considered daring since, at the time, the wilderness was assumed to be too rugged and wild to be captured on canvas.
Jackson's paintings of the Canadian wilderness helped shape the perception of Canadian art. His landscapes were, and continue to be, shown throughout Canada and are considered an important part of the country's art identity and history. He received three honourary doctorates from McMaster University, the University of Saskatchewan, and the University of British Columbia. In 1967, Jackson was awarded the title of a Companion of the Order of Canada and received the medal for lifetime achievement from the Royal Canadian Academy. Jackson spent his last years as an artist-in-residence at the McMichael Gallery (now the McMichael Canadian Art Collection) in Ontario, where he is buried. His work is included in many prestigious private and public collections across the country.