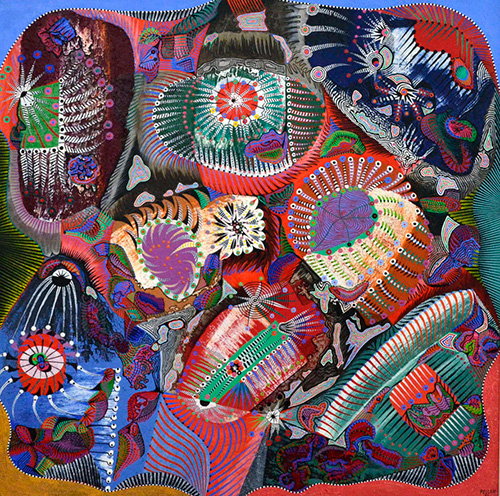 Alfred Pellan was a Canadian artist whose practice explored painting, illustration, theatre, costume design, and printmaking. He was greatly influenced by European art, particularly the Fauvists, Surrealists and Cubists; he sought to expose elements of these avant-garde movements to the Canadian art scene.
Pellan was born in Quebec City in 1906. In 1926, he graduated from the École des Beaux-Arts de Québec. His first work sold was purchased by the National Gallery of Canada when he was only seventeen. In 1926, he traveled to Paris to study at the École national supérieure des Beaux-Arts, where he incorporated his newfound Fauvist influence into his painting practice.
After returning to Quebec, Pellan settled in Montreal and taught at the École des Beaux- Arts. During the 1940s, he illustrated books, designed theatre costumes, and became involved in printmaking. He became every more interested in Surrealism and Cubism, evident in his adoption of more, vivid, complex, and textured compositions in his paintings. His still life works were created in a mosaic-like surface and were animated with dynamic, fluid lines.
The artist returned to Paris in 1955 when the Musée National d'Art Moderne held an exhibition of more than one hundred of his works. He was the first Canadian to have a solo exhibition at this institution. During his lifetime, Pellan was awarded numerous awards and honours for his significant contribution to Canadian art. Today, his work is held in many prestigious public and private collections across the country and abroad.