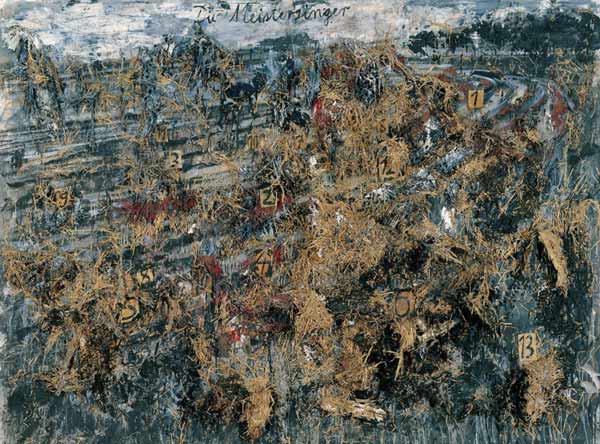 Anselm Kiefer is a German painter and sculptor known for his political and often controversial work. He was born in Donaueschingen, Germany just two months before the end of World War II. He studied pre-law and Romance Languages at the University of Freiburg but, after a few semesters, switched to study art. In 1971, Kiefer established a studio in Hornbach, Germany where he worked until 1992. He since has lived and worked in France.
In the early years of his career, he focused on performance art. He mimicked Nazi salutes while in costume throughout various cities in Europe with the intention of reminding people of the consequences of the Third Reich. In 1969, his first solo exhibition – Besetzungen (Occupations) at Galerie Kaiserplatz – displayed photographs of these performances, as well as a host of other controversial subjects.
In the 1970s, Kiefer began experimenting with unconventional materials in his painting and sculptural practice including dried plants, ash, broken glass, lead, and shellac. His paintings expanded on the themes of his work of the previous decade as he continued to confront his country's dark past with themes surrounding the Nazi rule. Kiefer's work is also inspired by Germany's history and culture including Paul Celan's poetry and spiritual concepts of Kabbalah, a school of thought originating from Judaism. Kiefer also works in book design, set design, woodcuts, and watercolors.
Kiefer was chosen to represent Germany at the 1980 Venice Biennale and again in 1997. Numerous solo exhibitions of his work have been held throughout Europe, the United States, and Japan. He was the recipient of the Wolf Prize in 1990 and the Premium Imperiale from the Japan Art Association in 1999. Kiefer's work is held in the collections of the Hamburger Bahnhof in Berlin, Germany, the MoMA, the Guggenheim Museum, and the Metropolitan Museum of Art in New York, NY, the Detroit Institute of Arts in Michigan, Tate Modern in London, England, the Art Gallery of Ontario in Ottawa, the National Gallery of Australia in Parkes, Canberra, and many more.