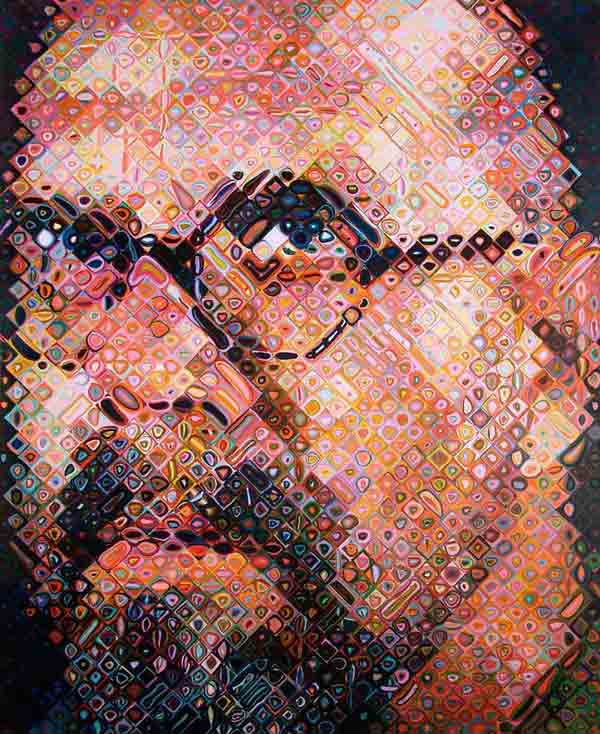 Chuck Close is an American artist known for his photorealistic, large-scale portraits. Born in Monroe, Washington in 1940, Close graduated with a Bachelor of Arts in 1962 from the University of Washington, Seattle and went on to obtain a Master's degree in Fine Arts from Yale University in 1964. After graduation, he studied at the Academy of Fine Arts Vienna, worked as a teacher at the University of Massachusetts, and later moved to New York City in 1967 where he established his studio.
Close struggles with dyslexia and suffers from prosopagnosia, a neurological disorder characterized by the inability to recognize faces, also called 'face blindness'. Throughout his life, he found solace in turning to the arts. For the majority of his career, Close has focused on portraiture, mastering techniques such as watercolour, finger painting, pastel, graphite, and printmaking. His large-scale paintings are created from an initial gridded photograph of a subject to produce system-driven portrait painting.
His first solo exhibition was held at the University of Massachusetts Art Gallery in 1967 and his second was held at the Bykert Gallery, New York in 1970. He has since exhibited in almost eight hundred exhibitions at institutions and art festivals such as the MoMA, the 1979 Whitney Biennial, and the Metropolitan Museum of Art in New York, NY, the Hermitage Museum in St. Petersburg, Russia, the Museum of Contemporary Art in Sydney, Australia, and many more throughout North America and Europe. His work was also selected to represent the United States in the 1993, 1995, and 2003 Venice Biennales.
Close is the recipient of numerous awards and honours including the Skowhegan Arts Medal (1992), the New York State Governor's Art Award (1997), as well as the National Medal of Arts from President Bill Clinton (2000). In 2010 President Obama appointed him to the President's Committee on the Arts and Humanities. In that same year, Close was commissioned to create twelve large mosaics for the 86th Street subway station in New York City, and in 2016 his portrait of Paul Simon was used as the cover art for the singer's album, Stranger to Stranger.   
Today, after suffering from a spinal artery collapse in 1988, Close continues to work with brushes strapped to his wrist to help him paint large portraits, but in a style that is more abstract, drawing from low-resolution photos which appear pixelated from afar. His works remain highly sought after by museums and collectors.