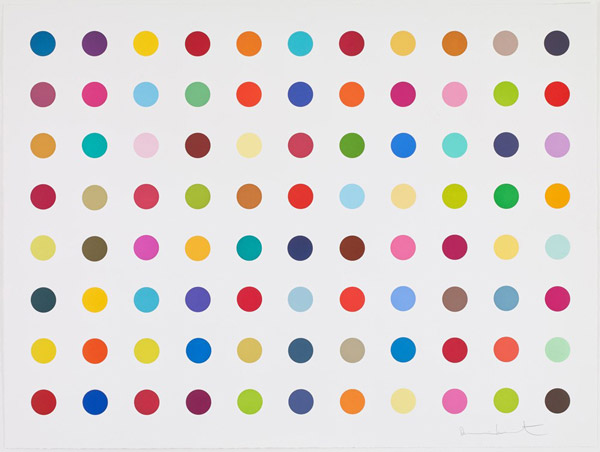 Damien Hirst is an artist, entrepreneur, and art collector who has been dominating the British art scene since the 1990s. He was born in 1965 in Bristol, England and moved to London in 1984 where he worked for a time in construction. Five years later, he earned his Bachelor of Fine Arts at Goldsmiths College in 1989.
Hirst's artwork explores the relationship between art, life, and death through different mediums such as installation, sculpture, photography, painting, and drawing. As a teenager, death was fascinating to him and he made regular trips to the anatomy department of Leeds Medical School where he drew inspiration for his drawings. In 1991, he began one of his most famous series, Natural History, where he preserved dead animals in steel and glass tanks with formaldehyde solution. The most famous piece of this series, The Physical Impossibility of Death in the Mind of Someone Living, is a large preserved shark suspended in a tank. This piece is considered one of the most iconic symbols of modern British art and pop culture of the 1990s.
Other well-known works by the artist include For the Love of God (2007), a platinum cast skull set with 8,601 pavé-set diamonds and the site-specific installation Pharmacy (1992). He has created numerous other well-known series featuring butterflies and colourful dots.
In addition to being an accomplished artist, Hirst has worked in a curatorial capacity. In 1994, he curated the group exhibition Some Went Mad, Some Ran Away at the Serpentine Gallery, London and in 2006, the award-winning exhibition In the darkest hour there may be light, also presented at the Serpentine Gallery.
Since 1987, Damien Hirst has had over eighty solo exhibitions and has participated in over two hundred group shows. In 1995, he won the prestigious Turner Prize in recognition of his significant contribution to British art. He also had a major retrospective at the Tate Modern, London in 2012. Today he lives and works in London, Gloucestershire, and Devon.