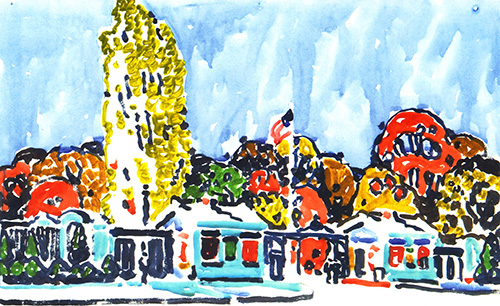 David Milne was a Canadian painter, printmaker, and writer. His entire body of work predominantly focuses on Canadian landscapes, while his later pieces feature more whimsical subject matter. Milne is also credited, along with American painter Marsden Hartley, with bringing European Modernism to North America.
Milne was born in the small village of Burgoyne, Ontario, in 1882. At the age of twenty-one, he moved to New York City where he studied at the Arts Student League and exhibited his paintings for three years. During World War I, he was assigned the position of war artist. He created works capturing the battlefields in France and Belgium.
After the war, he briefly lived in New York before returning to Ontario in 1929 to focus on his painting. He worked predominately with oils but dabbled in watercolour and dry point printmaking. He created his own artistic style with inspiration from the European and American Modernists. He endowed simple subjects such as trees, flowers, and houses with majestic stature and dynamism. During his lifetime, the Group of Seven largely overshadowed his work. Today, however, he is considered one of Canada's most important artists. Clement Greenberg described him as one of the greatest North American artists of his generation.
His works, along with those of Emily Carr, Goodridge Roberts, and Alfred Pellan, represented Canada at the 1952 Venice Biennale. The National Gallery of Canada, Ottawa held a retrospective of his work in 1955 and a second was held at the Hart House, Toronto in 1962. An exhibition of his paintings was shown at the British Museum in London, the Metropolitan Museum of Art in New York, and the Art Gallery of Ontario in Toronto (2005).