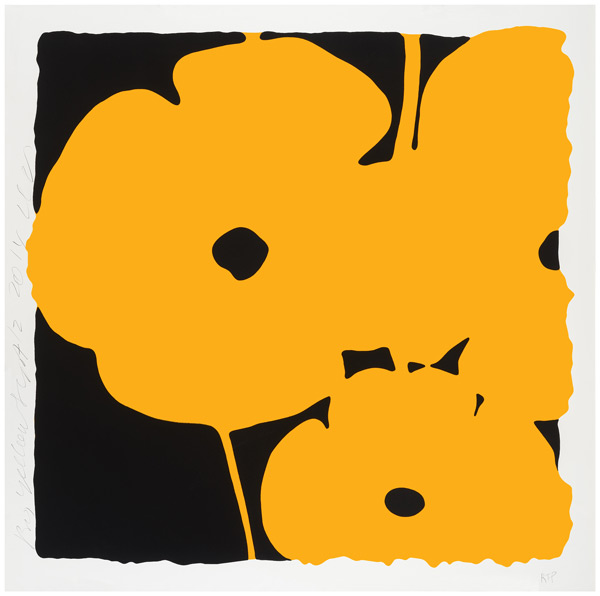 American painter, sculptor and printmaker, Donald Sultan, was born in Asheville, North Carolina in 1951. He obtained his Bachelor of Fine Arts from the University of North Carolina at Chapel Hill in 1973 and his Master of Fine Arts at the School of the Art Institute of Chicago in 1975. During his studies, Sultan abandoned conventional methods of painting and began experimenting with different techniques, surfaces, and media. Today, he is best known for his large-scale, still-life paintings where he employs industrial materials such as tar, enamel, and vinyl tiles.
His fame in the art world first stemmed from his involvement in New York's "New Image" movement. His first solo exhibition was at Artists Space in New York in 1977. In the 1970s and 1980s, his work was exhibited at the Mary Boone Gallery, the Whitney Biennial at the Whitney Museum, and modern art museums in Indianapolis, New York, Chicago, and Los Angeles. His art is both nonfigurative and representational, exploring the boundaries between the everyday and the abstract. Later in his career, Sultan transitioned his focus from industrial subjects to subjects of nature.
His work has been part of numerous exhibitions and resides in prominent public and private collections internationally including the Art Institute of Chicago in Illinois, the National Gallery of Australia in Parkes, Tate Modern in London, England, the Hirshhorn Museum in Washington, D.C., the Guggenheim Museum and the Whitney Museum, in New York, NY, among others. In addition to numerous grants and honours, Sultan was awarded honorary degrees from the Corcoran School of Art, Washington D.C., the New York Academy of Art, and the University of North Carolina. Today, he lives and works in New York City.