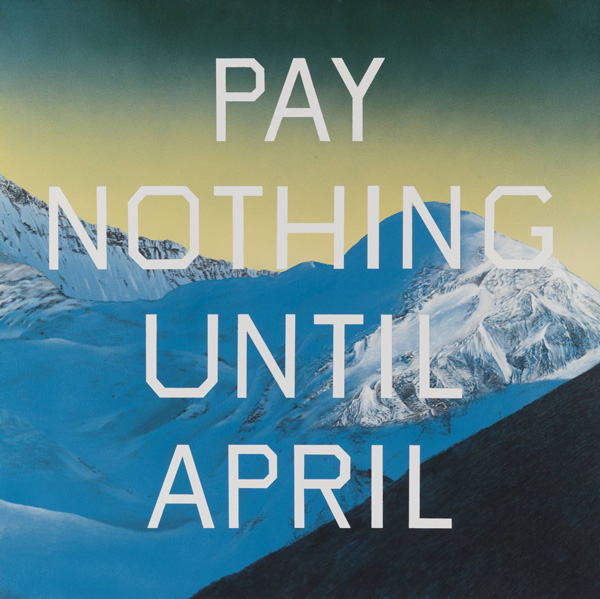 American Post-War artist, Ed Ruscha was born in 1937 in Omaha, Nebraska and grew up in Oklahoma City where his family relocated in 1941. He moved to Los Angeles after graduating high school to attend the Chouinard Art Institute (now the California Institute of Arts). 
After graduating, he worked as a graphic designer for an L.A advertising agency which greatly influenced his work as an artist. His early interest in commercial art inspired him to create artwork that challenged traditional hierarchies of painting and prevalent artistic styles such as Abstract Expressionism. Although he continues to reject the labels of Pop or Conceptual artist, Ruscha certainly incorporates elements of both artistic movements into his paintings and photographs. Borrowing from tropes of advertising, he creates word-paintings which explore the noise and fluidity of language. The isolated words and phrases featured in his paintings and prints are often glib in nature and stem from pervasive colloquial clichés and vernacular culture. Since his early years as an artist, Ruscha has also been greatly influenced by the landscape of his home city, often incorporating vacant parking lots, swimming pools and nightspots into his compositions. 
Ruscha is known for employing unusual and untraditional media in his paintings and drawings. Some examples include gunpowder, blood, fruit juice and Pepto Bismol. 
Ruscha's first solo show was held at the Ferus Gallery in Los Angeles in 1962. Other major exhibitions have been held at the San Francisco Museum of Modern Art, The Museum of Contemporary Art in Chicago, Centre George Pompidou in Paris, The Whitney Museum of American Art in New York, among many others around the globe. He has also been the subject of several retrospectives in New York, Washington, D.C, London and Paris. Notably, he was elected to the American Academy of Arts in Letters in 2001. The artist continues to live and work in Los Angeles.