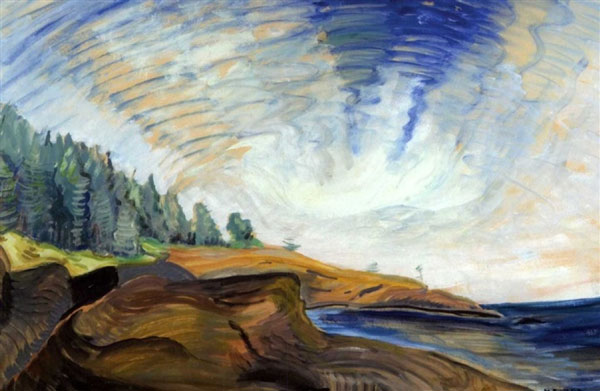 Emily Carr was a Canadian artist and writer best known for her vibrant paintings of British Colombia's nature and Indigenous communities. In addition to painting, Carr wrote extensively about her indigenous friends and studies. Carr is widely considered a national icon and one of the most important Canadian artists for her ingenuity and independence.
She was born in Victoria, British Columbia in 1871. After the death of her parents in 1890, she attended the San Francisco Art Institute for two years. In 1898, she made her first sketches and paintings of aboriginal villages inspired by the Indigenous people of the Pacific Northwest Coast. In 1899, she traveled to London to study at the Westminster School of Art and in 1910 she went to Paris to study at the Académie Colarossi. While in France, she met the painter Harry Gibb, whose use of distortion and vibrant colours would significantly influence Carr's work.
In 1927, she was invited to include her works in an exhibition on West Coast aboriginal art at the National Gallery in Ottawa, an exhibit that later traveled to Toronto and Montreal. It was at this exhibition where Carr met the members of the Group of Seven, individuals who were considered pioneers of Canadian Modernism and inspired her to continue creating and innovating. In the 1930s, she showed her work in other major Canadian cities as well as in London, Paris, Washington, D.C., and Amsterdam. In 1952, her work was chosen to represent Canada at the Venice Biennale alongside artists David Milne, Goodridge Roberts, and Alfred Pellan. Later in life, she shifted her focus from aboriginal themes to landscapes, in particular, scenes of dreamlike forests.
Carr's work is housed in a number of prestigious national museums, including the National Gallery of Canada in Ottawa. Her appeal expands beyond Canada's borders as well, evidenced in the subject of a solo exhibition at the Dulwich Picture Gallery held in London (2014-2015) that focused on her work, and in an exhibition that was part of DOCUMENTA (13) in Kassel, Germany.