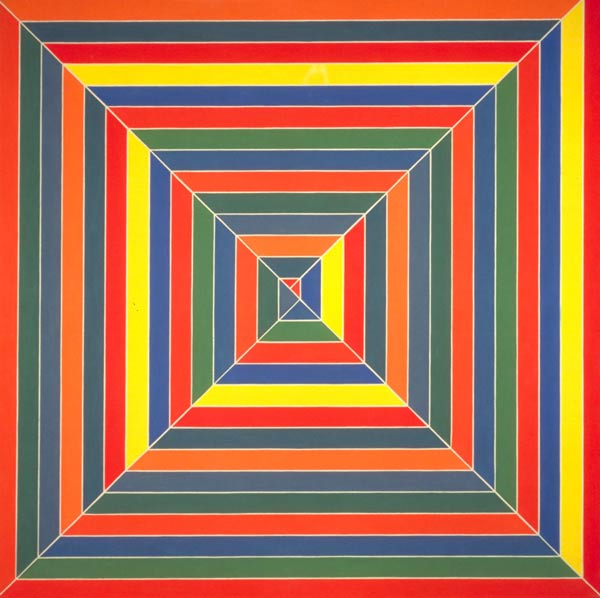 Born in Malden, Massachusetts in 1936, Frank Stella has become a renowned American painter, sculptor and printmaker. Stella attended the Phillips Academy in Andover, Massachusetts where he first learned about Abstract Modernists Josef Albers and Hans Hofmann. Later, he attended Princeton University where he majored in History. Stella took frequent visits to New York galleries during his years of study, exposing himself to artists such as Jackson Pollock, Franz Kline, and Jasper Johns.
After graduating in 1958, Stella moved to the Lower East Side of New York where he quickly garnered attention in the art world. At the young age of 23, the MoMA purchased one of his works and included four in its 1959-1960 exhibition, Sixteen Americans. Famed gallery owner, Leo Castelli, decided to represent Stella's work in that same year. In 1970, he was the youngest artist to have a retrospective at the MoMA and he was the first living artist to have a second retrospective seventeen years later.
Stella's work emphasizes form rather than content. He famously referred to one of his paintings as "a flat surface with paint on it – nothing more." His abstract paintings have no pictorial illusion, nor any psychological or metaphorical references. His artistic style, characterized by colour variations and circular motifs, is credited with influencing major movements such as Minimalism, Color Field Painting, and Post-Painterly Abstraction. Moreover, he inspired major theorists such as Carl Andre, Donald Judd, and Michael Fried. The esteemed Clement Greenberg regarded Stella's work as corresponding with his concepts of flatness, the integrity of the picture plane, and the optical integrity of compositions.
Today, Stella lives and works in New York City. He is one of the most recognized and well-known postwar American artists.