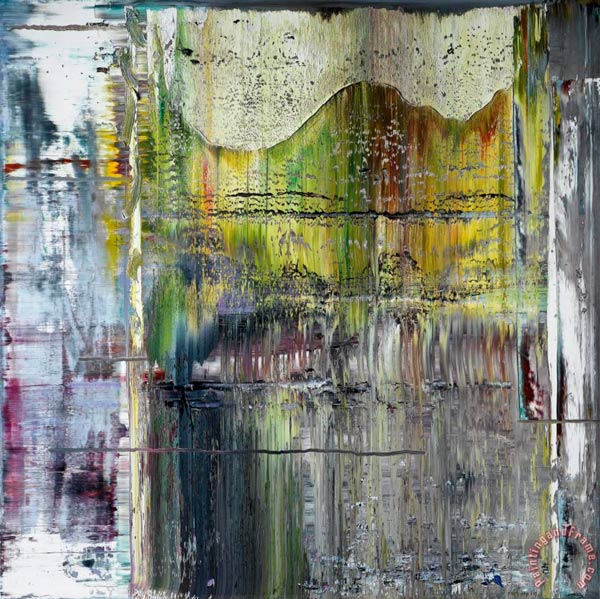 Gerhard Richter is a German visual artist best known for his abstracted portraits. He was born in Dresden, Germany in 1932. As a young man, he had an apprenticeship with an advertising, stage-set painter and he later studied at the Dresden Academy of Fine Arts. Before the erection of the Berlin Wall in 1961, Richter escaped to West Germany where he studied, and later taught, at the Kunstakademie Düsseldorf.
Throughout his career, Richter has created abstract and photorealistic paintings, photographs, prints, and glass pieces. He became fascinated with the relationship between painting and photography during his school years. He is best known for blurring his photorealistic paintings. With his blurring technique, every part of the composition becomes equally important, thus distorting any traditional set of hierarchies within the composition. In his painting practice, he does not aim to imitate the photographs from which he works, but rather, to reinvent them entirely. He begins with a photograph, projects it onto a canvas, traces the exact forms, then paints to replicate the original picture and achieves his iconic blur by going over the painting with either a soft brush or a squeegee.
In the beginning of his career, Richter painted portraits of people in his life as well as members of the Nazi party and those affected by the regime. As a result, the majority of his artworks have politically charged undertones.   
Today, Richter lives and works in Cologne, Germany. He is the recipient of numerous awards and distinctions and is recognized as one of the most significant living painters today. His work has been shown extensively throughout the world and is part of many museum collections. Solo exhibitions of his work have been held at the Serpentine Gallery (2008), the National Portrait Gallery (2009), and the Tate Modern (2011) in London, England, the Centre Pompidou (2012) in Paris, France, and the Neue National Galerie (2012) in Berlin, Germany.