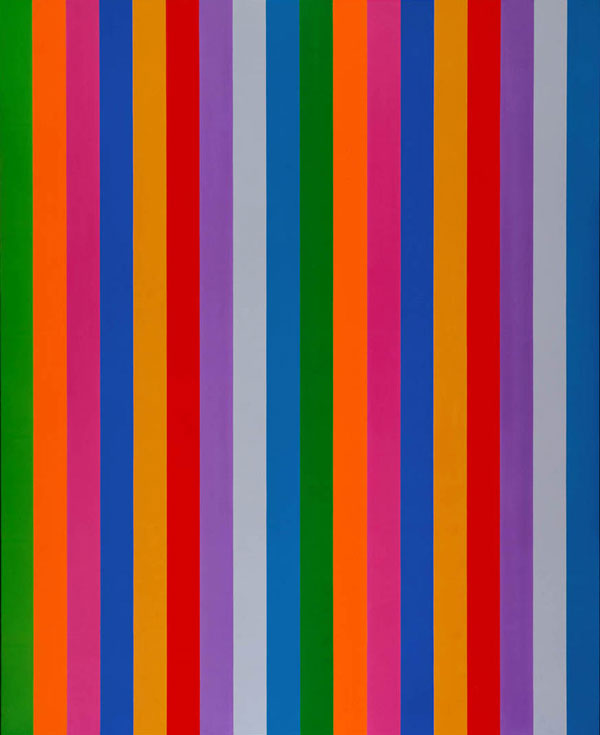 Guido Molinari was a Canadian artist celebrated for his vertical striped, hard-edged paintings of highly saturated colour that stimulated the eye's instabilities of perception. From the 1950s onward, Molinari was a central figure in the Quebec and Canadian art scene, as well an important educator and writer.
Molinari was born in Montreal, Quebec in 1933. He began painting at the age of thirteen and after briefly studying design he enrolled at the École des Beaux-Arts de Montréal and the School of Design at the Musée des Beaux-Arts de Montréal. During his youth, the works of American artists, Barnett Newman and Jackson Pollock, inspired him.
Molinari's paintings represented Canada at the Venice Biennale in 1968, where he won the David Bright Prize. He was awarded many other notable accolades during his career, including a Guggenheim Fellowship in 1967. He was appointed as an officer of the Order of Canada in 1971 and as a member of the Royal Canadian Academy of Arts. During his lifetime, Molinari was also an avid art collector. He had an extensive collection featuring the works of Jasper Johns, John Cage, Henri Matisse, and Piet Mondrian.
Molinari's influence on the Canadian art scene penetrated the sphere of education as well. He worked at Sir George Williams University in Montreal (today Concordia University) for twenty-seven years and was part of a small group of artists who founded the school's Faculty of Fine Arts. After his death, he was awarded a doctorate posthumously from Concordia University for his significant contributions to the university. 
Today, the Fondation Guido Molinari works to promote his work as well as the work of young emerging artists. His paintings can be found in the collections of the Musée des Beaux-Arts de Montréal in Quebec, the Fondation Guido Molinari in Montreal, the National Gallery of Canada in Ottawa, and the MoMA in New York.