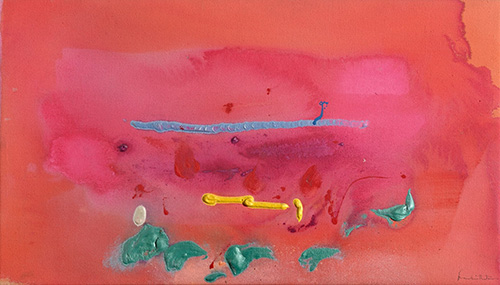 Helen Frankenthaler was an artist working in the mid 20th century whose impact on artworld has been momentous. She made great contributions to the Abstract Expressionist movement and is praised for working as a woman in a predominantly male profession. Most famously, Frankenthaler invented the soak-stain technique of painting which consists of pouring thin paint directly onto unprimed canvases. This technique allows the paint to pool and seep into different parts of the work. The end result are colourful and raw artworks evocative of natural phenomena. Her soak-stained technique was instrumental in the development of Color Field painting which was practiced by many of her contemporaries including Barnett Newman and Mark Rothko. This painting style has continued to define mid-century American painting. 
 Frankenthaler was born in 1928 and raised in New York City. She graduated from Bennington College in 1949 and began her professional career a year later. Her painting, Beach (1950) was selected for the exhibition, Fifteen Unknowns: Selected by Artists of the Kootz Gallery, which catapulted her career. She was the subject of major retrospectives at the Whitney Museum of American Art in New York and was exhibited at the Solomon R. Guggenheim Museum in New York. Frankenthaler continued to reinvent the ways art is produced and experimented with a variety of mediums such as ceramics, sculpture, tapestry and print making, which she explored until her death in 2011. 
 Frankenthaler's work is frequently re-examined throughout the artworld internationally. She is praised for her dynamism, her unique artistic methods and for her significance within feminism's intersection with art history. Most recently, her work was presented in the MoMA's exhibition, Making Space: Women and Artists and Abstraction (2017).