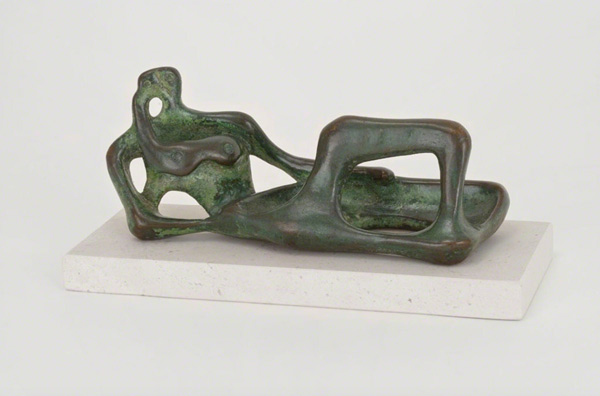 Sculptor Henry Moore is heralded as one of the most significant British artists of the twentieth-century. He is known for his semi-abstract bronze sculptures of human figures, typically in reclining positions. His forms, often suggestive of human bodies or landscapes, consist of hollow spaces and organic shapes. Moore's work was instrumental to the introduction of Modernism in England and Europe.
Moore was born in Castleford, Yorkshire, England in 1898. In his youth, he was encouraged by his teachers to pursue a career in the arts but his education was put on hold when he served in the British Army during World War I. After an injury resulting from a gas attack at the Battle of Cambrai, he returned to England where he became a student at the Leeds School of Art and, later, he also attended the Royal College of Art in London.
During the 1930s, Moore's reputation continued to grow but his career was, once again, put on hold due to war. During World War II he was recruited as an Official War Artist and produced his now famous drawings of people taking shelter in the London Underground during the Blitz. Afterwards, Moore was able to return to his sculptural practice and use the reputation he gained during the war to exhibit his work to a larger audience. 
In the 1940s and 1950s, he gained international success. In 1943, his first solo exhibition in the United States was held at the Buchholz Gallery in New York. His first major international retrospective was held at the MoMA in New York in 1946. In 1948, at the first Venice Biennale since the war, Moore was awarded the International Sculpture Prize. His sculptures were celebrated for representing optimism, humanist values, and an opposition to Fascism. Today, his works are part of numerous collections internationally and his public artworks are found around the world.
The Henry Moore Foundation, established in 1977 by the artist's family, encourages a public appreciation for the arts and supports sculpture projects, exhibitions, and the preservation of Moore's legacy. Although exceptionally wealthy during his life, Moore lived modestly and endowed most of his earnings to the foundation.