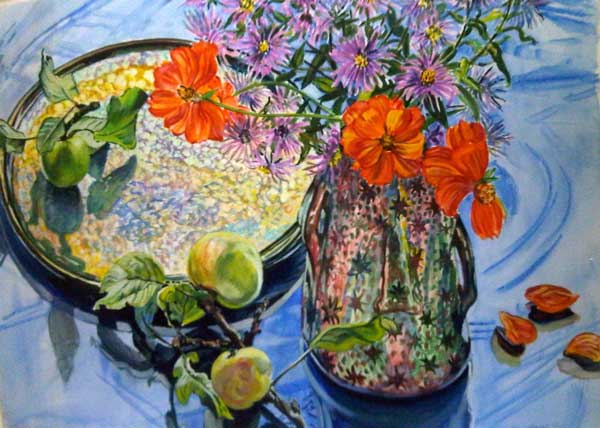 Janet Fish in an American realist painter known for her large-scale still-life paintings. She often paints glass, plastic-wrapped fruit, or mirrors, paying particular attention to the depiction of transparency and reflections of light.
Fish was born in Boston, Massachusetts in 1938 and was raised in Bermuda. She studied printmaking and sculpture at Smith College, receiving her Bachelor of Arts in 1960. For her Master of Fine Arts, Fish attended Yale University from 1960-1963, where she studied under Alex Katz and alongside fellow prolific students such as Chuck Close and Richard Serra. In 1967, she had her first solo show at Fairleigh Dickinson University and her first full exhibition shortly after in New York City in 1969.
Fish currently lives and works in New York City and Middletown Springs, Vermont.
In addition to her art practice, she has taught at the School of Visual Arts, Parsons The New School for Design, Syracuse University, and the University of Chicago. Her work can be found in the permanent collections of the National Gallery of Art in Washington, D.C., the Art Institute of Chicago in Illinois, the MoMA and the Metropolitan Museum of Art in New York, NY, as well as numerous other institutions throughout the United States.