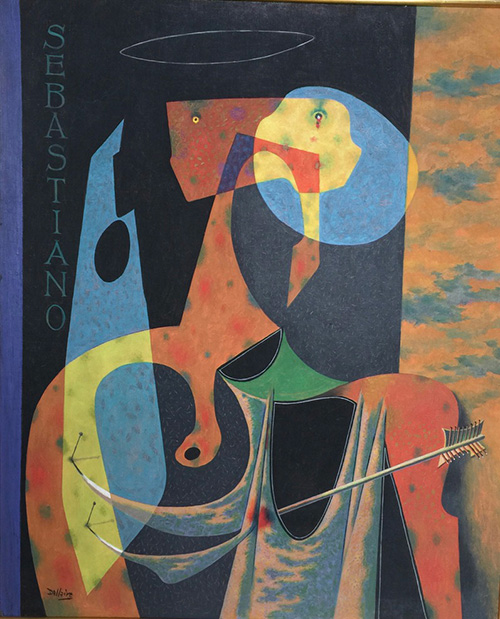 Jean Philippe Dallaire was a Canadian painter known for his festive imagery and macabre characters often painted in his highly original style reminiscent of both Surrealism and Cubism. During his artistic career, Dallaire rarely paid attention to trends and developed his own unique practice. In contrast to the cheerful colours of his palette, Dallaire's work often features visibly troubled subjects affected by fear, madness, and violence.
Dallaire was born in Hull, Quebec in 1916. He studied at the Central Technical School in Toronto from 1932-1935, at the École des Beaux-Arts, Montreal and at the Ateliers d'Art Sacré, Paris in 1938. While in France, young Dallaire encountered the works of Pablo Picasso, Salvador Dali, and Joan Miró all of whom strongly influenced his art practice. Although technically trained, Dallaire is noted for his self-education and originality.
It is believed that the artist's frequent employment of dark imagery stems from his experiences during World War II. While living in France in 1940, Dallaire and his wife were placed in the German internment camp, Saint-Denis. Although his wife was released after six months, Dallaire was forced to endure four years of imprisonment.
After the war, Dallaire briefly returned to Canada and later settled in Vence, France. He worked for the École des Beaux-Arts, Quebec from 1946-1952 and for the National Film Board from 1952-1958, where he worked in animation. During this period, he also received numerous commissions for murals, as well as an order to decorate the interior of the Queen Elizabeth Hotel in Montreal.
Dallaire's work has been exhibited internationally in Paris, São Paolo, Seattle, and San Francisco. Retrospective exhibitions of his work have been held at the Musée d'Art contemporain in Montreal and the Musée National des Beaux-Arts du Québec in Quebec City. In 1957, he participated in the Biennial of Canadian Art at the National Gallery of Canada in Ottawa. More recently, from 2005-2008, a traveling exhibition Dallaire, Illustrateurs, Extraits des séries historiques was organized by the city of Gatineau, Quebec and its municipal gallery.