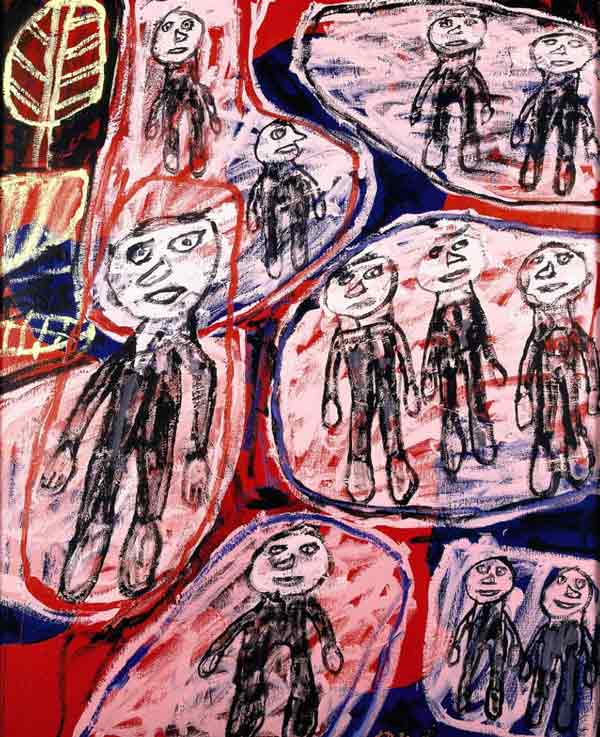 Jean Dubuffet was a French painter known for founding the Art Brut movement (a French term that literally translates to 'raw art'). This term was used to describe artworks made outside the realm of academic tradition, usually in reference to graffiti or naïve art – also called 'outside art'. Dubuffet concerned himself with anti-culture and anti-art, dismissing conventional aesthetics. He challenged beauty standards, customary academic painting, and notions of realism. Refusing to believe in the difference between the beautiful and the ugly, Dubuffet deliberately chose to evoke the grotesque. 
Dubuffet was born in Le Havre, France in 1901. Though well educated, he rejected the notion of formal institutions, preferring to study on his own. In 1918, he moved to Paris and studied for a short time at the Académie Julian until he withdrew after a brief six months. It was not until 1942 that Dubuffet decided to return to painting. He was heavily influenced by the paintings of Jean Fautrier, a painter of Tachism (or Art Informel). Dubuffet used a similar stylistic approach by applying texture to paint with the combination of sand, gravel, tar, and straw.
While post-war Paris favoured artwork that reaffirmed old values, Dubuffet preferred to create 'low-brow', childlike imagery that satirized high art. Opposed to an intellectual approach, Dubuffet sought out the work of children and the mentally ill. He admired their unrepressed style with which they could freely experiment, unrestricted by rigid art theories and normative trends.
His early work is comprised of portraits of everyday people with exaggerated, grotesque features. During the later years of his career, Dubuffet experimented with unusual mediums such as with ballpoint and felt tip pens. He also began to embrace the Surrealist idea of automatic drawing as a means to tap into the subconscious. Dubuffet used this technique to create the graphic style of his later series, Hourloupe (1962), which were comprised of clean black lines forming cells filled with unmixed color that showcased the contrast between physical and mental representation. He considered these works of art to be in their purest form. They would continue to occupy him for the next several decades.
Throughout his career, his work was exhibited in numerous exhibitions and retrospectives internationally. Today, his work can be found in the permanent collections of the Guggenheim Museum, the MoMA, and the Metropolitan Museum of Art in New York, NY, the Centre Pompidou in Paris, France, and the Tate Modern in London, England. The Foundation Jean Dubuffet in Paris, France continues to actively collect and exhibit his work.