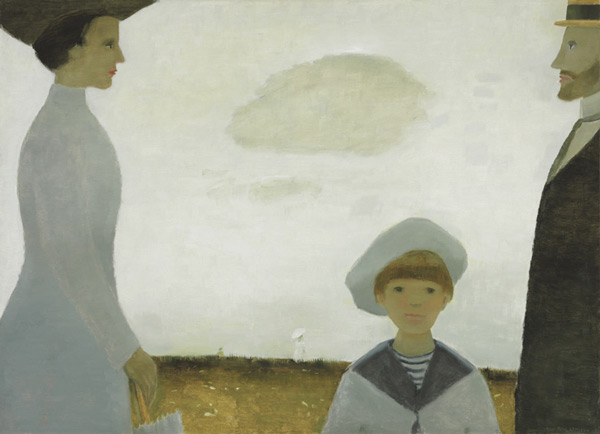 Jean-Paul Lemieux is one of the most well-known and illustrious Quebec painters of the twentieth century. He is remembered for his depictions of desolate, infinite landscapes and cities of the Quebec region in a renewed figurative style.
Lemieux was born in Quebec City in 1904. He studied under Edwin Holgate at the École des Beaux-Arts de Montréal. There, he met Paul-Émile Borduas, Jean-Charles Faucher, and Louis Muhlstock. Like many of his comrades at this time, Lemieux joined in on the prevailing trend during the 1930s and 1940s in Quebec, that of the renewal of figurative art. In 1929, when the great depression hit, Lemieux made the move to Europe to study advertising and art in Paris where he met fellow French-Canadian artist, Clarence Gagnon.
Lemieux has received numerous awards and accolades for his contribution to Quebecois art. The artist's work was one of a select few chosen to represent Canada at the Venice Biennale in 1960. In 1968, he became a Companion of the Order of Canada and was a member of the Royal Canadian Academy. He received the Molson Prize for the Canada Council of the Arts in 1974. In addition to painting, Lemieux illustrated several books including La Petite Poule d'eau by Gabrielle Roy in 1971 and Maria Chapdelaine by Louis Hémon in 1981. Major retrospectives of his work have been held at the National Gallery of Canada in Ottawa, the Musée des Beaux-Arts in Montreal, and the Musée National des Beaux-Arts du Québec in Quebec City.