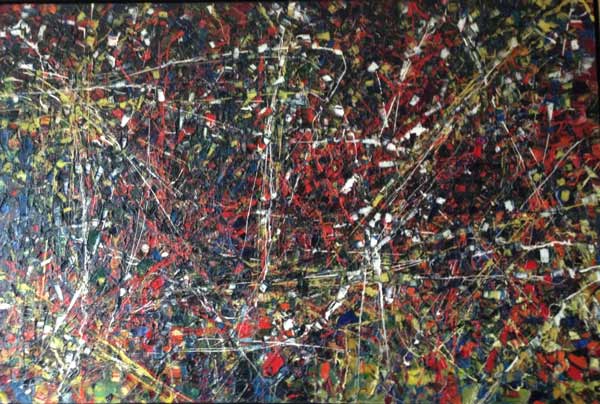 Jean-Paul Riopelle was one of the first Canadian artists to achieve notable international recognition, considered by many to be one of the most important Canadian artists of the postwar, twentieth century. As an Automatist, he was one of the original signatories of the Refus Global, along with Pauk-Émile Borduas. Extremely prolific, Riopelle produced over six thousand works, including more than two thousand paintings, throughout his career.
Riopelle was born in Montreal, Quebec in 1923 and began taking drawing lessons at the young age of ten. In 1942, he enrolled at the École des Beaux-Arts in Montreal. Inspired by André Breton's Le Surréalisme et la Peinture, he experimented with non- representational painting. In 1947, Riopelle moved to Paris where he associated himself with the Surrealists. His first solo show took place in 1949 at the Galerie La Dragonne, a popular Surrealist meeting place in Paris.
Riopelle kept a studio near Giverny, France in the 1960s alongside American painter Joan Mitchell, with whom he had a romantic relationship with for the next two decades. During this time, he experimented with other mediums including ink on paper, watercolour, lithography, collage, and sculpture. In the 1980s, Riopelle moved back to Quebec and established his studio in Estérel. Here, he experimented with representational subject matter and aerosol spray cans.
Riopelle's style is distinguished by a thick layering of hastily applied paint, a technique he employed in order to complete a painting in one session. He prepared all of his colours beforehand and applied them onto large canvases with a palette knife, a spatula, or a trowel. Depending on the gloss finish he applied, light reflects off the surface of the paints in different directions and with varying degrees of intensity. 
Riopelle has received many accolades for his significant contribution to Canadian art history. His work received an Honourable Mention at the São Paulo Art Biennial in 1952 and his work was chosen to represent Canada at the Venice Biennale in 1954 and, again, in 1962. He participated in the Younger European Painters exhibition at the Guggenheim in 1953 and received an Honourable Mention at the Guggenheim International Award exhibition in 1958. Moreover, retrospectives of his work have been held at the National Gallery of Canada in Ottawa, the Musée National des Beaux-Arts du Québec in Quebec City, the Fondation Maeght near Saint Paul-de-Vence, the Musée National d'Art Moderne in Paris, and at the Kölnischer Kunstverein in Cologne.