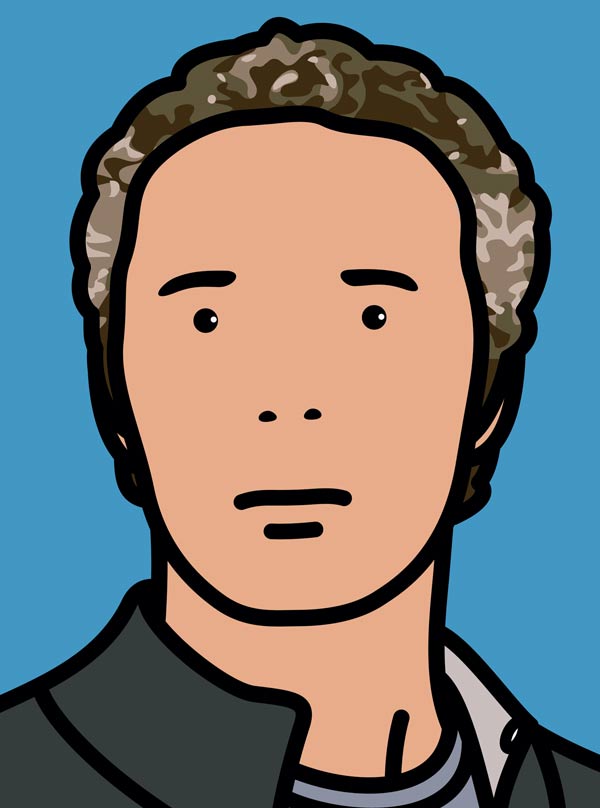 Julian Opie is a pop artist whose distinct style of clean lines, solid colours, and flat dimensions is instantly recognizable. Opie draws influence from classical portraiture, woodblock prints, the public, and traffic signs to create his clean visual language. Through his art, the Opie aims to engage with the history of art as well as the human body as subject matter using new technological methods.
Opie was born in London, England in 1958 and raised in Oxford. In 1982, he graduated from Goldsmith's School of Art, London and quickly became an influential figure in Britain's art scene. His works include sculpture, painting, film, and printmaking. Opie's LED sculptures depicting human figures walking or dancing are by far one of his most iconic projects. Many of his LED works are public art installations in various cities including New York, Phoenix, Indianapolis, Calgary, London, Dublin, Zurich, Prague, Seoul, and Tokyo. He has also developed LED projections for the band U2's Vertigo world tour.
Today, Opie lives and works in his hometown of London. His work has been featured in an extensive number of international exhibitions and collaborations. Artwork by Opie can be found in the collections of the National Portrait Gallery and Tate Modern in London, England, as well as the MoMA in New York, NY.