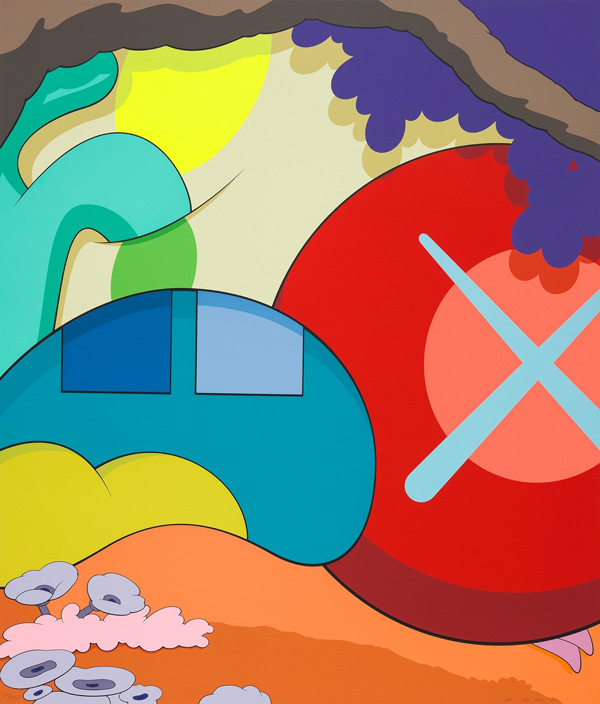 KAWS, whose real name is Brian Donnelly, is a New York-based artist who has made his name as one of the foremost graffiti artists in the world. Born in 1974 in Jersey City, New Jersey, he graduated from the School of Visual Arts in New York where he obtained a Bachelor of Fine Arts specializing in illustration. 
He settled in New York City in the 1990s post-graduation and began his career as a graffiti artist in addition to working freelance in animation design for Disney. His artistry started out with subverting the images and advertisements featured on bus shelters, phone booths and billboards. He would remove the existing advertisements from their casings and add his own unique artistic elements before putting them back. The artworld quickly took notice and his notoriety and popularity reached unexpected heights. 
In the late 90s, KAWS designed and produced limited edition vinyl toys that instantly became a big hit with the global art toy collecting community, particularly in Japan. He also began collaborating on different toys which redesigned iconic cartoon characters including Mickey Mouse, the Michelin Man and SpongeBob SquarePants. The artist is also known for his prolific print series and paintings, which have done exceedingly well at auction, more often than not selling significantly more than the high estimates. Similar to his sculptures, his paintings feature unique caricature figures and frequently portray subverted versions of famous American cartoons. His unique iconography has also made its way into the commercial sphere, as KAWS has collaborated with many fashion and cosmetic brands including Marc Jacobs, Comme des Garçons, Nike, Uniqlo, Kiehl's and Vans.
KAWS' museum shows include solo exhibitions at the Pennsylvania Academy of Fine Arts, the High Museum of Art in Atlanta, the Modern Art Museum in Texas and the Aldrich Contemporary Art Museum in Connecticut. Other international eminent galleries include Galerie Perrotin with locations in New York, Paris, Hong Kong and Tokyo, as well as Skarstedt Gallery in New York. The artist currently lives and works in Brooklyn, New York.