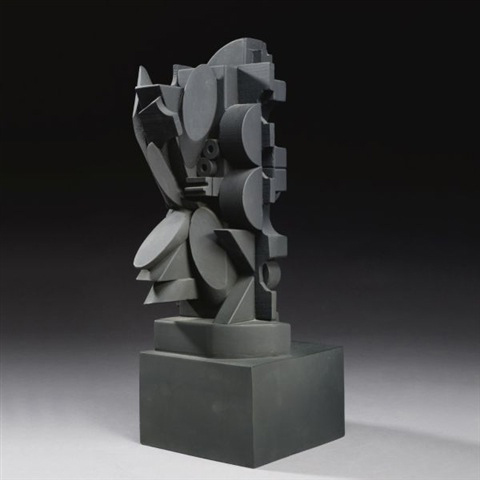 Louise Nevelson is a sculptor best known for her large-scale installation pieces consisting of various found objects painted in a uniform colour. She is also remembered for achieving success in a largely male-dominated art world. Her legacy continues to inspire feminist artists today.
Nevelson was born as Leah Berliawsky in 1899 in Pereiaslav-Khmelnytskyi, Russia (today Ukraine). In 1905, her family emigrated from Russia to the small town of Rockland, Maine. In 1920, she moved to New York City to pursue her artistic career. She attended the Art Students League in New York from 1928-1930 where she studied painting, modern dance, and sculpture. From 1931-1932, she traveled to Munich to study under Hans Hofmann, later returning to New York. In the 1930s, she met Frida Kahlo and Diego Rivera, and assisted him with his murals for the New Workers' School.
She began receiving attention for her sculptures in the early 1940s. Despite her growing popularity, many curators and critics continued to dismiss her work due to her gender. In Linda Nochlin's famous essay Why Have There Been No Great Women Artists? (1971), Nevelson is considered to have been a major influence for female artists and was credited with redefining femininity in art.
Her most well known sculptures consist of wooden objects gathered from the urban environment which were carefully combined and arranged to create enormous installations. These assemblages echo the contrast between the city and nature while protesting the long-believed idea that large invasive sculptures are exclusively a 'men's art practice.' Although her wooden works have gained the most popularity, in the 1960s and 1970s she experimented extensively with other materials including Plexiglass, aluminum, and steel.
Nevelson's first retrospective was presented at the Whitney Museum and today, her works are held at the Tate in London, England, the MoMA in New York, NY and the Art Institute of Chicago in Chicago, IL, among others.