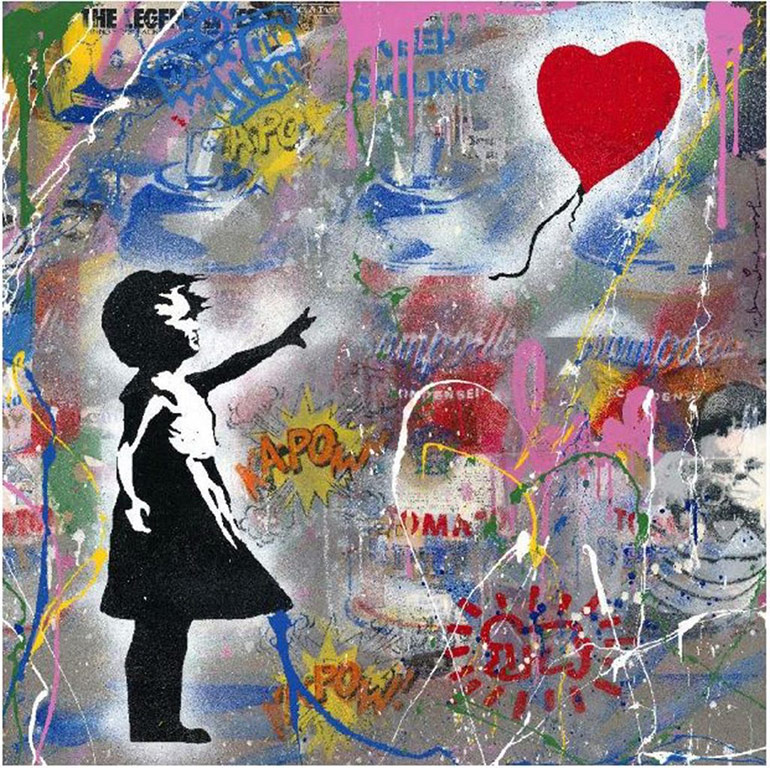 Thierry Guetta, best known by his moniker, Mr. Brainwash, is a provocative figure in the world of contemporary street art. He was born in Garges-les-Gonesse, France in 1966 and relocated to Los Angeles with this family at the young age of 15. After dropping out of high school, Guetta delved into an array of businesses, including selling vintage clothing, creating a production company and managing a nightclub. Guetta also had an affinity for documentary videography, amassing hours of endless footage that recorded aspects of mundane everyday life.
On a trip to Paris, Guetta met his cousin who he learned was the infamous street artist, Space Invader. His knack for filming led him to record his cousin's nightly artistic endeavors and launched him into the world of graffiti and street art. Shortly after, he met Shepherd Fairy and Banksy, who he also filmed. Impressed with the footage, Banksy suggested Guetta experiment with street art himself.
Seemingly overnight, Guetta adopted the personality of Mr. Brainwash and established his own artistic style. His subversive graffiti-pop oeuvres consist of richly layered screenprints, stencil work and spray paint that fuse historical pop imagery with contemporary cultural iconography.
He quickly gained widespread notoriety with his first solo show, "Life is Beautiful", in Los Angeles in 2008. The exhibition elicited the attention of celebrities and central figures in the artworld. Wildly successful, Guetta amassed over a million dollars in just a few short weeks. Guetta's central role in Banksy's Academy Award nominated film, "Exit Through the Gift Shop" (2010), further launched the artist into stardom.
In addition to being featured in notable art collections and exhibitions worldwide, Guetta has been involved in various high profile commissions. Most notably, he designed the cover for Madonna's Celebration album and he directed a campaign for the Red Hot Chili Peppers . He continues to live and work in Los Angeles.