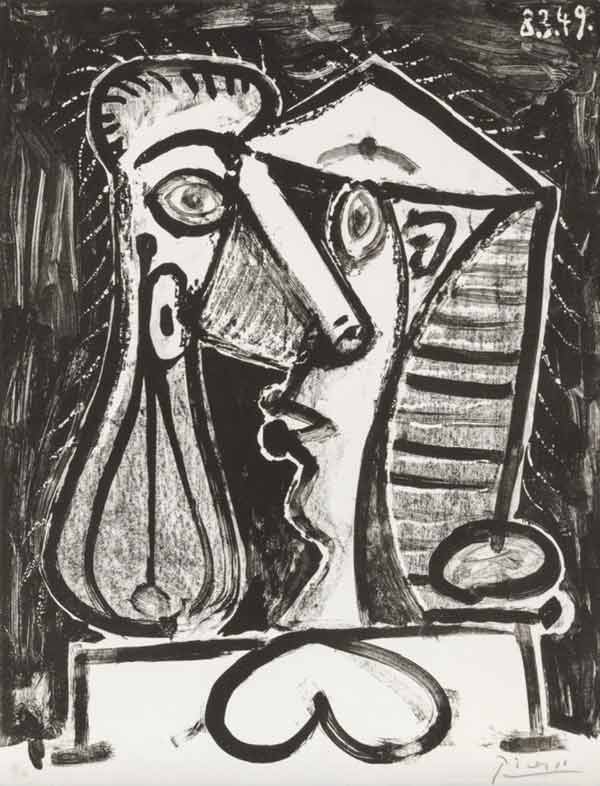 Pablo Picasso is regarded as one of the most important figures of twentieth-century art. Throughout his lifetime, he was one of the most well-known and prolific names in the art world, a recognition that persists to this day. He is particularly remembered for his role in the development of Cubism.
Picasso was born in Malaga, Spain in 1881. His father, also a painter, encouraged him to pursue an education in the arts. At the age of thirteen, he was admitted into the School of Fine Arts, Barcelona and at the age of sixteen into the Royal Academy of San Fernando, Madrid. There, he received formal instruction and learned the techniques of Realism. As an adult, Picasso spent most of his life in France – Paris in particular – which would greatly influence his work. His styles, varying greatly throughout his career, have been posthumously referred to as different periods: The Blue Period (1901-1904), The Rose Period (1904-1906), African Influence (1907-1909), Cubism (1909-1912), and the Crystal period or Synthetic Cubism (1912–1919).
Together with artist Georges Braque, Picasso co-founded Cubism, an avant-garde art movement that abstracted subjects into cube-like, geometric forms. This style had a significant effect not only on the art world, but on architecture, music, and literature as well. Additionally, Cubism provided the seeds for other avant-garde movements to germinate including, Futurism, Dadaism and Constructivism.
Throughout his lifetime, Picasso created thousands of paintings, sculptures, drawings, and ceramic pieces as well as theatre costumes and sets. His work can be found in numerous major collections in Paris, throughout Spain and in an impressive number of other institutions worldwide. Picasso continues to be the subject of numerous exhibitions internationally, most recently, the From Africa to the Americas: Face-to-Face Picasso, Past and Present exhibition (2018) held at the Montreal Museum of Fine Arts.