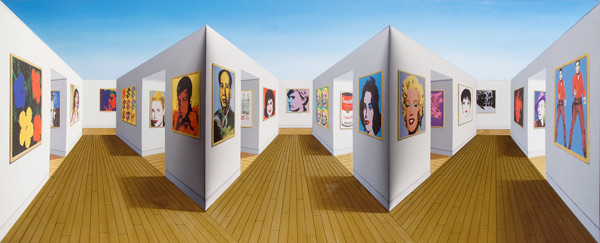 Patrick Hughes was born in Birmingham, England in 1939. He is recognized as a major painter in contemporary British art, known primarily for his creation of reverspective – an optical illusion painted on a three-dimensional surface in which parts of the picture that are seemingly the farthest away are in reality physically the closest.
His first major subject, which sparked immense popularity in the 1970s, was the rainbow. He painted them emerging from trashcans, leaning on the sky, coming through windows, hanging on clothing lines, and pouring out of paint buckets. These were so popular and well received that they were often featured on postcards and prints. Despite the popularity of his rainbows, Hughes is best known for his reverspective paintings. These sculpted paintings of interiors, landscapes, and buildings deceive the viewer's mind with an experience of unreality. As a visual optical illusion, these works express the science of perception along with artistic representation of space.
In addition to his artistic work, Hughes is a designer, teacher, and writer. He has written numerous essays and books on the visual rhetoric of the paradox of his work and on the subject of oxymorons and paradoxes.
Today, Hughes lives and works in London. His work has been exhibited in Europe, Asia, and North America, and is part of public collections at the British Library and the Tate in London, England, the Gallery of Modern Art in Glasgow, Scotland, the Deutsche National Bibliothek in Frankfurt, Germany, and the Denver Art Museum in Colorado.