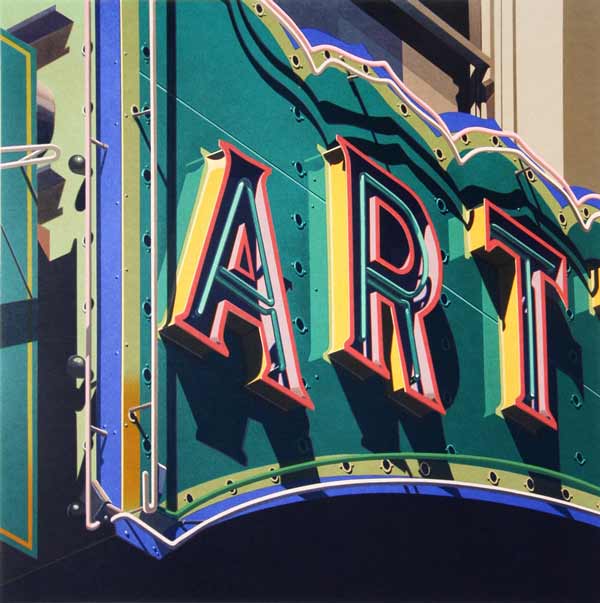 Robert Cottingham is an American artist predominantly known for his paintings and prints of urban building façades, neon signs, and shop fronts. He was born in Brooklyn, New York in 1935. After completing his service in the U.S. Army, Cottingham studied at the Pratt Institute in New York, earning his Bachelor of Fine Arts in 1963.
During the 1960s, he worked as an artistic director for an advertising firm while producing paintings inspired by the works of American Photorealists such as Edward Hopper and Charles Sheeler. Additionally, like many artists in the 1960s, Cottingham's work was heavily influenced by Pop Art. His enlarged scales evoke the work of James Rosenquist and his employment of text echoes that of Andy Warhol and Robert Indiana.
In 1964, Cottingham moved to Los Angeles where he focused exclusively on his art practice. He experimented with photography and used his photographs as a reference point for his paintings. In the 1970s he moved to rural Connecticut and, although removed from the urban environment, he continued to paint more expansive and broad urban landscapes.
During his career, he exhibited extensively, most notably at the Whitney Museum in New York, NY, the Smithsonian American Art Museum in Washington, D.C., the Deutsche Guggenheim in Berlin, Germany, Documenta in Kassel, Germany, the Serpentine Gallery in London, England, and the Samsung Museum of Modern Art in Seoul, South Korea. Cottingham continues to live and work in Connecticut.