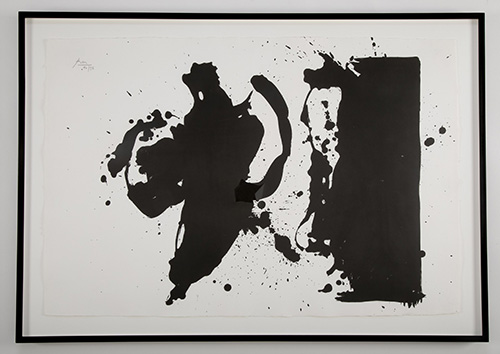 Robert Motherwell was an American painter and printmaker as well as a successful writer and editor. He was born in Aberdeen, Washington in 1915. He earned a Bachelor's degree in Philosophy from Stanford University in 1937 and later went on to complete his post graduate work at both Harvard and Columbia University.
His first well-known art pieces were created during a trip to Mexico in 1941, where he created pen and ink drawings. They were abstract in nature and innovatively combined formal compositional elements with spontaneous invention. In 1943, Peggy Guggenheim gave him the opportunity to create work for a show alongside several European Modernist artists. Following the show's success, Motherwell was invited to participate in many others and, ultimately, was offered a contract with art dealer Sam Kootz. His accomplishments throughout the decade landed him a place in the New York School; a group that included esteemed artists Willem de Kooning, Jackson Pollock, and Mark Rothko.
Motherwell was greatly impressed by both Surrealist painters and the Abstract Expressionist movement, both of which greatly influenced his practice. His signature style consisted of simple shapes and bold contrasts that create an active balance between moderate and strong gestural markings. He constructed a dialogue between the subdued and rebellious and between traditional and experimental art making.
Motherwell has had numerous solo and group exhibitions throughout his lifetime and his work is included in numerous private and public collections. His work is currently held in the prestigious collections of the Guggenheim Museum and the MoMA in New York, NY, as well as the Tate in London, England, among many others.  In 1981, Motherwell established the Dedalus Foundation with the primary intention to educate the public on Modern art by supporting research, education, and publications within the field.