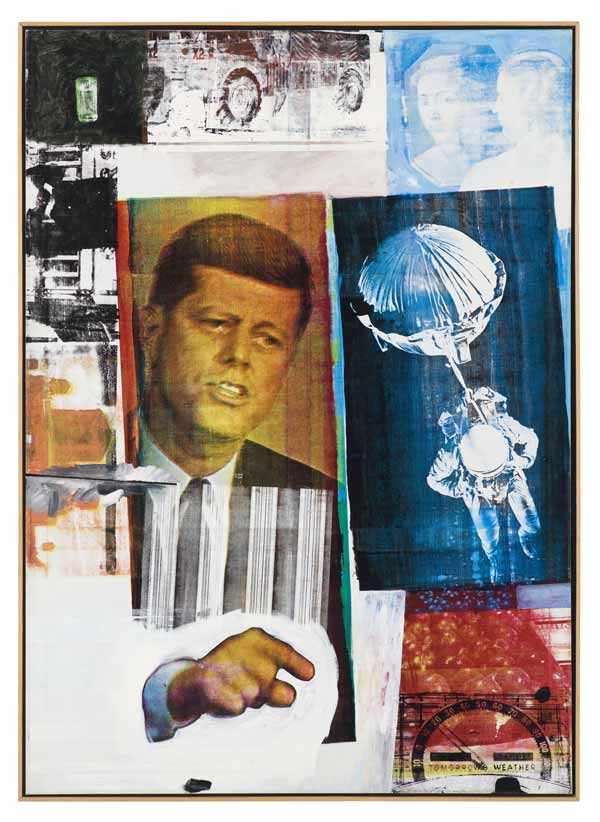 Robert Rauschenberg was an American painter, performance artist, sculptor, and graphic artist. Due to his innovative blending of materials and methods, Rauschenberg became one of the most influential American artists of the twentieth century. His work expanded on the traditional boundaries of art making by merging the spheres of kitsch and high art by combining found objects with traditional mediums. He continually questioned the definition of art as well as the role of the artist. Rauschenberg declared that it is the artist who holds the authority to decide what art can be.
Rauschenberg was born in Port Arthur, Texas in 1925. He studied pharmacology at the University of Texas, Austin. He was drafted into World War II in 1943 and, as he refused to kill on the battlefield, was positioned as a medical technician in an army hospital in San Diego. While in California, Rauschenberg encountered art for the first time in his life. Inspired by what he saw, he enrolled in art classes at Kansas State University in 1947 and later at the Academie Julian in Paris. In the early 1950s, Rauschenberg studied at The Arts Students League in New York and his first solo show was held at the Betty Parsons Gallery, New York in 1953. After achieving fame in the 1950s and 1960s, he served as an influence to both Andy Warhol and Roy Lichtenstein, along with other prominent artists of the Pop Art movement.
Rauschenberg received many awards and accolades during his long career. In 1983, he received a Grammy Award for his album design Speaking in Tongues by the Talking Heads. In 1993, he received the National Medal of Arts and he was the recipient of the Leonardo da Vinci World Award of Arts (1995). In 1990, the Robert Rauschenberg Foundation was founded as an institution that promotes awareness of environmental and humanitarian issues, as well as other causes that Rauschenberg deeply cared about.
His work has been shown in numerous institutions worldwide, including the Smithsonian American Art Museum in Washington, D.C., the Guggenheim Museum and the Metropolitan Museum of Art in New York, NY, and Centre Pompidou in Paris, France, among others.