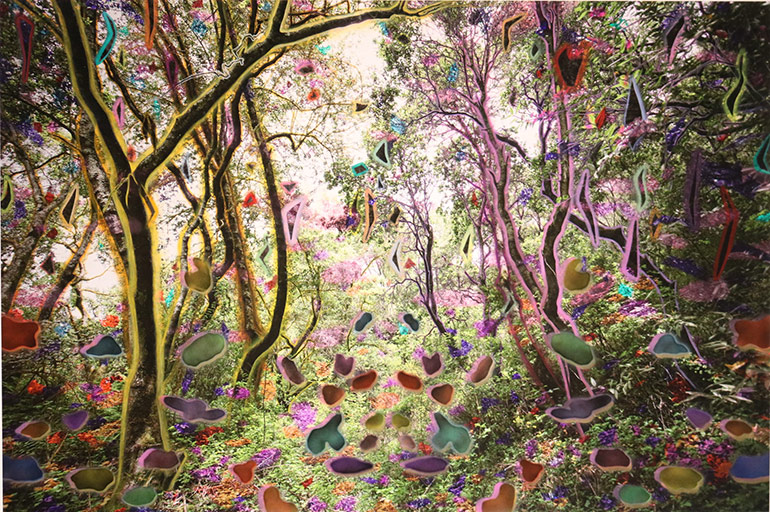 Sarah Anne Johnson is a multidisciplinary artist who currently lives and works in Winnipeg, Manitoba where she was born in 1976. She uses photography as a primary medium to fabricate imagery that not only showcases a moment in time, but evokes the feelings she has towards the various subjects she depicts. She is celebrated for her ability to incorporate unique materials to her photographs, including paints, re-touching inks and glitter, as well as her various destructive methods such as burning, scratching and gouging.
She completed a BFA at the University of Manitoba in 2002 and an MFA from the Yale University School of Art in 2004. Her graduating exhibition, "Tree Planting", consisted of 64 colour photographs that depict her experiences tree planting in a replenishing project in Northern Manitoba. Notably, The Solomon R Guggenheim Museum purchased the exhibition for their permanent collection.
Upon her Yale graduation, she was awarded with the Schickle-Collingwood Prize, which helped fund her following artistic projects, all of which engage with the relationship between photography and memory. House on Fire is one of Johnson's most notable ongoing projects, which centers on the artist's memory of her grandmother who underwent gruesome experimental treatments for depression.
Johnson has since received many awards and grants, including the inaugural Grange Prize and a Canada Council Major Grant in 2008. She has participated in various residencies and has taught at the Yale School of Art, Emily Carr University and the University of Manitoba. Her work has been featured in solo and group exhibitions worldwide, most notably at the Met Breuer in New York a total of three times.