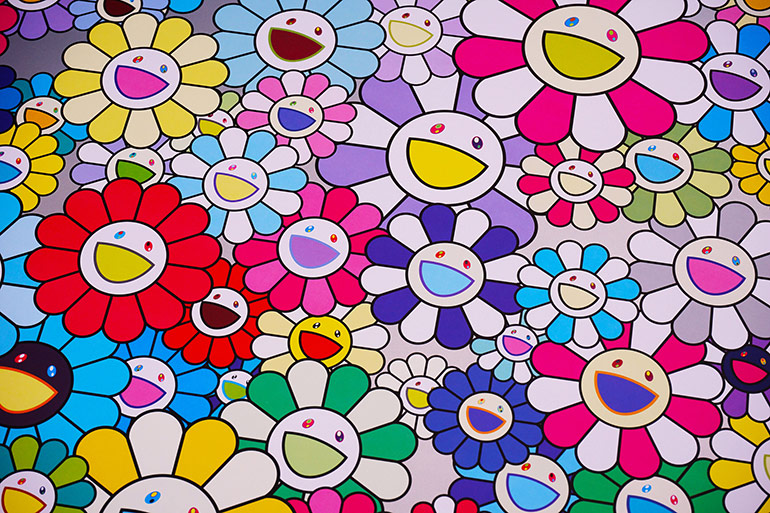 Takashi Murakami is a Japanese Contemporary artist born in Tokyo in 1962. Often referred to as the "Warhol of Japan", Murakami works in a contemporary Pop style and is one of the most celebrated artists to come out of post-war Asia.
He attended the Tokyo University of the Arts and majored in Nihonga, a traditional style of Japanese painting. It was here that he began to combine his childhood interests in anime and manga with his new interests in Fine Art, thus blurring the lines between "high" art and "low" art. He coined the term "superflat," which refers to both the aesthetic characteristics of the Japanese tradition and the nature of post-war Japanese culture. The term has had a large influence on other contemporary Japanese artists.
Murakami has a diverse practice, working with classical mediums like painting and sculpture in addition to the commercial mediums of fashion, merchandise and animation. He is an enthusiastic collaborator; throughout his career, he has worked on projects with Marc Jacobs, Louis Vuitton, Kanye West and Kid Cudi. Recently, Murakami has ventured into the emerging NFT market, producing and selling several highly valued images at auction.
The artist has an extensive international exhibition record. Most notably, Murakami has produced solo shows for MoMA PS1 in New York, Serpentine Galleries in London, Guggenheim Museum Bilbao, and the Brooklyn Museum. His work is included in the permanent collections of the Museum of Modern Art (MoMA) in New York, and the Coleccion SOLO in Madrid.