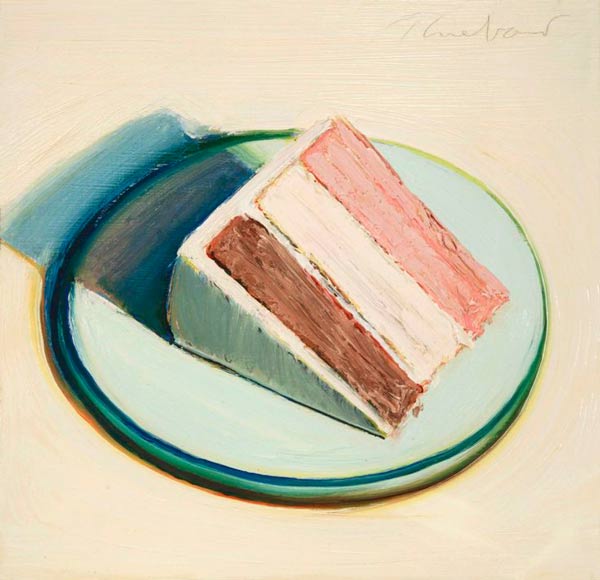 Wayne Thiebaud is an American painter associated with the Pop Art movement known for his colourful paintings of everyday objects. His work showcases objects such as pies, lipsticks, paint cans, ice cream cones, pastries, and hot dogs. With his use of heavy pigments, exaggerated colours, and starkly defined shadows Thiebaud developed a unique style that recalls the aesthetics of advertisements of his era.
Thiebaud was born in Mesa, Arizona in 1920 and his family moved to Long Beach, California when he was an infant. When he was young, he apprenticed at Walt Disney Studios for a summer where he drew 'in-betweens' for characters such as Goofy, Pinocchio, and Jiminy Cricket. In 1938, he began working as a cartoonist in both California and New York. From 1942-1945, he worked as an artist for the First Motion Picture Unit of the United States Army Air Force. In 1949, he studied at the San Jose State University and later at the California State University, Sacramento.
After teaching for several years in California, Thiebaud moved to New York City where he became friends with Willem de Kooning and Franz Kline, and also became influenced by the works of Robert Rauschenberg and Jasper Johns. When Thiebaud moved back to California, he began painting and experimenting with subject matter and style. His work was included in one of the first Pop Art exhibitions in 1962 at the Sidney Janis Gallery, New York, which gained him national recognition. Although associated with the Pop Art movement, Thiebaud does not classify himself as a Pop artist. He thinks of himself merely as a painter. In fact, he dislikes the flat and mechanical style of many Pop artists.
Thiebaud's work is in the permanent collections of many museums and institutions across the United States such as the Whitney Museum of American Art in New York, NY, the Smithsonian American Art Museum in Washington, D.C., and the Phoenix Art Museum in Arizona. In 1994, he was awarded the National Medal of Arts by President Clinton and the Lifetime Achievement Award for Art from the American Academy of Design in 2001.