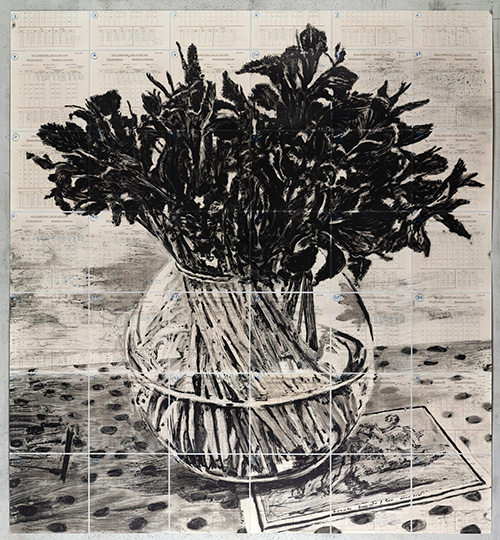 William Kentridge is a South African artist born in Johannesburg in 1955. He is best known for his prints, drawings, and animated films. In these films, Kentridge draws and erases with charcoal, recording his process at each state. He then displays a projection of the looped images with the final, highly worked drawing. These images are deeply engaged with the trauma of Apartheid. The process of recording history is constructed from reconfigured fragments to arrive at a fluid understanding of the past. "My work is about the provisionality of the moment," the artist has said.
Kentridge studied politics and African history at the University of Witwatersrand in Johannesburg before continuing his education in Fine Art at the Johannesburg Art Foundation and the École Jacques Lecoq in Paris. His interest in theatre is apparent in his style and desire to connect film and drawing. His work is also inspired by artistic satirists like Honoré Daumier, Francisco de Goya, and William Hogarth. Kentridge gained international acclaim for his short film series 9 Drawings for Projection (1989-2003). In 2016, his solo exhibition "Thick Time" opened at White Chapel Gallery in London, evoking 1920s technology and Dadaist collage. He has also directed several operas, most notably Wozzeck in 2017.
He is the recipient of honorary doctorates from several universities including Yale and the University of London. He has lectured at Harvard and served as visiting professor in Contemporary Art at Oxford University. His works are held in the collections of The Museum of Modern Art in New York, the Art Institute of Chicago, the Tate Gallery in London, and the Goetz Collection in Munich, among others. Kentridge continues to live and work in Johannesburg.