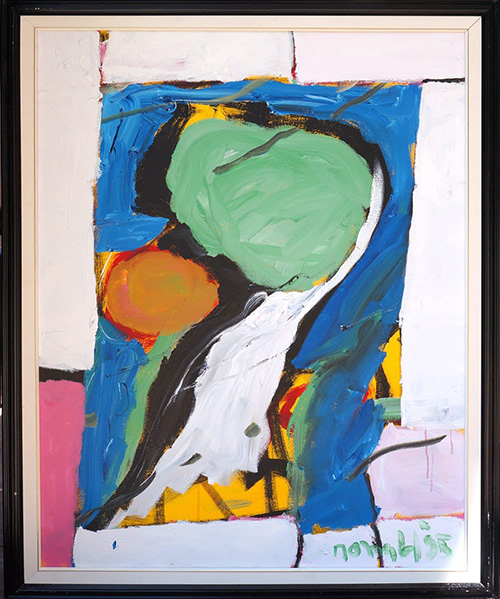 William Ronald was an influential Canadian painter, best known as one of the founding members of the artistic group, Painters Eleven, a Toronto-based group of Abstract artists active during the 1950s, partaking in their first exhibition of 1954. His abstract compositions are characterized by their spontaneity and energy, which he achieved through his particular method of applying paint in an automatic, unplanned manner.
Ronald was born in Stratford, Ontario in 1926. After graduating from the Ontario College of Art and Design University, he started producing abstract works. Feeling shunned by the Toronto art-scene, he worked for the Robert Simpson Co., a department store where he paired abstract paintings with furniture displays with the intention of persuading the public to embrace non-representational art. With Toronto's growing resentment towards abstract art, Ronald moved to New York City in 1952 where he shared a studio with Frank Stella and studied at the Hans Hofmann's School of Fine Arts. In 1957, he had his first exhibition at the Samuel Kootz Gallery where his work was well received by art critics and collectors alike.
In addition to painting, Ronald was a successful journalist for the Canadian Broadcasting Corporation (CBC) and was a columnist for the Toronto Telegram. He hosted TV and radio variety shows including, As it Happens (1969-1972) and The Umbrella (1966-1967). Throughout the latter half of the twentieth century, Ronald moved back to Canada and actively painted in various cities across the province of Ontario. He enjoyed painting in public venues, often hiring strippers to dance around him while he painted. He continued to paint until his death – literally – as he suffered a heart attack while painting a canvas 1998. He named the work in question, Heart Attack, before passing away several days later.
Ronald was a member of the Royal Canadian Academy of Arts and his work is part of collections at the Art Gallery of Ontario in Toronto, the National Gallery of Canada in Ottawa, the Musée des Beaux-Arts in Montreal, the MoMA, the Guggenheim, the Whitney Museum of Art, and the Brooklyn Museum in New York, as well as the Art Institute of Chicago in Illinois, among numerous others.