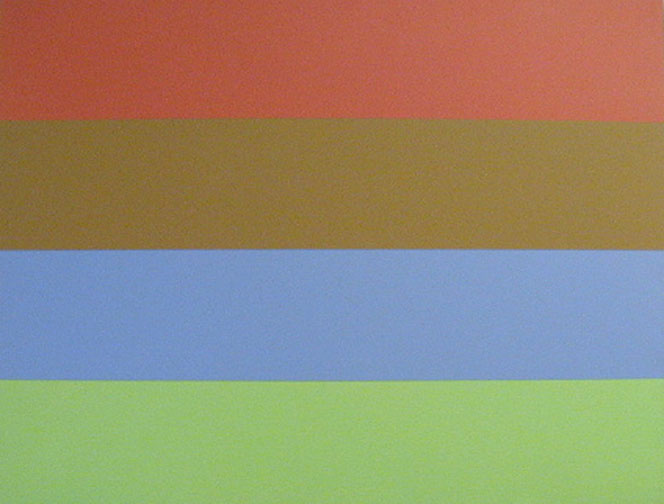 Yves Gaucher was a Canadian Abstract painter and printmaker who played an influential role in Quebec printmaking in the 1950s and 1960s. He was also a major contributor to the development of minimalism and hardedge painting.
Gaucher was born in Montreal in 1934 and attended Collège Brébeuf in Montreal in 1948. A year later, he studied at Sir George Williams College (today Concordia University). During his youth, he worked for the Canadian Broadcasting Corporation (CBC) in the mailroom and, later in life, became a radio announcer with his own jazz program. He also played the trumpet and regularly performed gigs as a jazz musician.
After meeting Arthur Lismer, an artist of the Group of Seven, Gaucher decided to practice art more seriously. He studied at the École des beaux-arts de Montreal in 1954 but was expelled in 1956. From then on, he studied art on his own and took on freelance jobs. Years later, he returned to the École des beaux-arts and studied printmaking, creating his own technique of heavy embossing. His prints were technically innovative and represent his extensive career of experimentation.
His first exhibition was held at the Galerie d'Échange in 1957 after which he found much success in Montreal and throughout Canada. In 1962, he traveled to Europe to study art with a grant awarded by the Canada Council for the Arts. He was the founding president of the Associations des Peintures-Gravures de Montréal. In 1964, Gaucher began to focus on painting. The New York Modernist artists Barnett Newman and Mark Rothko majorly influence his work, evidenced in his use of geometric objects and flat colours on large canvases, emphasizing mathematical relationships, patterns, and spatial relationships.
Gaucher's work, along with those of Alex Colville and Sorel Etrog, were chosen to represent Canada at the 1966 Venice Biennale. In the 1980s, he taught at Concordia University. In 1981, he was appointment as a member of the Order of Canada and became a member of the Royal Canadian Academy of Arts. His work has been shown at many institutions including the National Gallery of Canada in Ottawa, the MoMA in New York, and the Victoria and Albert Museum in London.